IRVINE, California, Aug 6, 2010 (AFP) - Ryan Lochte seized a long awaited 200-meter individual medley victory over Michael Phelps on Friday, winning the title at the US Swimming Championships in a blistering 1min 54.84sec.
Lochte boasts impeccable medley credentials and set the world record of 1:54.10 in winning the world title last year in Rome.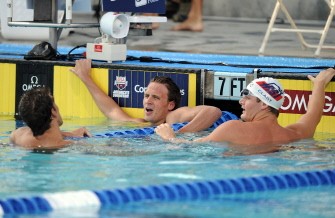 Lochte (center), Phelps (left) and Tyler Clary rest after the finish in the Men 200 LC Meter IM Final on August 6, 2010 in Irvine, California. AFP
But he had never beaten Phelps in the event in head-to-head competition in a major national or international competition.
Phelps, who won Olympic gold in the event in 2004 and 2008 and had held the world record since 2003, skipped it at last year's world championships when Lochte triumphed.
"It feels great," Lochte said. "I've been trying (to beat Phelps) for a long time. To finally get a win feels good."
Phelps finished second in 1:55.94.
Lochte used a strong breaststroke leg to overtake Phelps, who had led after both the butterfly and backstroke.
After Lochte grabbed the lead at the final turn, Phelps was unable to mount a challenge in the closing 50m of freestyle.
"With 75 meters left it kind of felt like my body shut down," said Phelps, the Beijing Olympic hero who is enduring an erratic season after taking time off from training.
Even so, he had managed to win his three previous events here - the 200m free and 100m and 200m butterfly.
Lochte, who also won the 400m medley here on Tuesday, said he knew it was crucial to get the jump on Phelps on the breaststroke leg of the four-stroke event.
"The key is that breaststroke-to-free turn," Lochte said. "If he's right with you and he pushes off that wall, he'll pop up a body length ahead and it's over."
Instead, it was Lochte who emerged from the final turn with a solid lead, despite the fact that he came into the championships nursing a groin injury that he said he had been "babying" in training.
Lochte's victory came less than an hour after he delivered a storming finish to seize second place behind Nathan Adrian in the 100m freestyle - not one of his usual events.
Adrian, winner of the 50m free on Thursday, won the 100m free in 48.41sec, with Lochte rallying on the second lap for second place in 48.83. Veteran Jason Lezak and Garrett Weber-Gale tied for third in 48.96.
Phelps, who won an unprecedented eight gold medals in Beijing as he proved himself the master of a multiple-event schedule, said Lochte's double was impressive.
"That's fairly solid. Doing a double like that is pretty challenging," Phelps said. "He's definitely swimming well right now."
Adrian didn't make a particularly good start, but led at the turn and said he thought he could shave something off his time for the Pan Pacific Championships that start in the same pool on August 18.
"There's definitely some things I could clean up to go a little faster in this race, but I'm happy with that time," he said.
Times from this meeting and the Pan Pacs will determine the US team for the 2011 World Championships in Shanghai.
Kathleen Hersey won the women's 200m butterfly in 2:07.00. Teresa Crippen was second in 2:07.89 and Mary Descenza Mohler was third in 2:08.91.
Mohler, swimming the day after marking her one-year wedding anniversary, admitted she considered retiring from the sport after last year's world championships, where she set a short-lived world record in the 200m fly heats and then was squeezed out of the medals.
Instead, she decided to press on with the sport she loves, training in Japan where she now lives with her husband, who is an officer in the US Marine Corps.
In the only other individual event of the day, Elizabeth Beisel won the 200m backstroke in 2:08.50, comfortably in front of runner-up Melissa Franklin (2:09.74).