SHANGHAI, July 31, 2011 (AFP) - US sensation Ryan Lochte claimed his fifth gold medal of the swimming world championships Sunday, matching Michael Phelps' haul from two years ago, with a dominant 400m individual medley swim.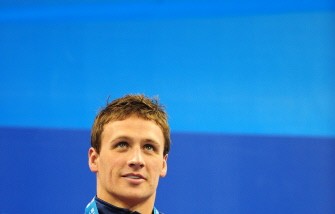 AFP- Ryan Lochte smiles on the podium during the award ceremony for the final of the men's 400-metre individual medley swimming
Lochte, the undisputed star of Shanghai, led from start to finish at the Sea Crown stadium to defend his 2009 title in 4min 7.13sec, more than four seconds ahead of team-mate Tyler Clary with Japan's Yuya Horihata third.
Also on the final night, American world record-holder Jessica Hardy made a successful return to the world stage from a doping ban when she won the 50m breaststroke ahead of defending champion Yuliya Efimova of Russia.
Hardy, who missed the 2008 Olympics after a positive test and was serving a one-year ban during the 2009 world championships, timed 30.19sec -- outside her record of 29.80 -- with team-mate Rebecca Soni third.
British world record-holder Liam Tancock defended his 50m backstroke title from France's Camille Lacourt and Gerhard Zandberg of South Africa.
And Sweden's Therese Alshammar won the women's 50m freestyle ahead of Dutch swimmers Ranomi Kromowidjojo and Marleen Veldhuis.
Lochte has long played second fiddle to Phelps but he has called the tune in Shanghai, beating his contemporary in the 200m freestyle and 200m individual medley, which he won in world record time.
The 26-year-old also won the 200m backstroke and gave the United States a record fourth straight 4x200m medley world title with a super-fast final leg, after a slow lead-off from Phelps.
Lochte's 1:54.00 in the 200m individual medley was swimming's first world record since high-tech polyurethane suits were banned last year, leaving a series of super-fast times including many which are expected to stand for years.
Meanwhile FINA's doping control review board chairman Andrew Pipe said there were no positive dope tests during the meet, which was hit by controversy when Brazil's Cesar Cielo escaped a ban for testing positive for a banned diuretic.