DOHA, Jan 22, 2011 (AFP) - South Korean substitute Yoon Bit Ga-Ram grabbed a sensational 105th-minute extra-time winner on Saturday to see off a stubborn Iran 1-0 and set up a semi-final clash with arch East Asian rivals Japan.
Korea finally emerged victorious in what was the fifth quarter-final meeting between the two regional giants in as many Asian Cups -- putting them 3-2 up in their mini-series and breaking Iran hearts just as penalties seemed inevitable.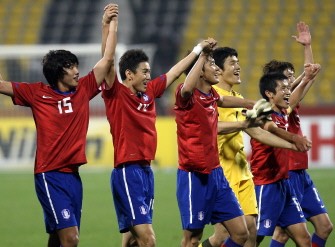 South Korean players celebrate after beating Iran on January 22, 2011. AFP
Yoon, 20, the K-League young player of the year, struck in injury time at the end of the first period of extra-time, weaving his way across the face of the box then hitting a curler past the keeper and into the bottom corner.
The other semi-final will be between Australia and Uzbekistan, also on Tuesday.
"The players were willing to sacrifice themselves for the team and we showed good organisation. But the most important thing the players learned was to enjoy controlling the game," said Korean coach Cho Kwang-Rae.
"Japan have been getting better and better in every aspect in this tournament. But I have never feared Japan, even as a player, and I don't fear them now."
Iran coach Afshin Ghotbi admitted it was hugely disappointing for the three-times champions, who have not won the Asian Cup since 1976.
"In the first-half we didn't play like we can, that maybe had to do with the Koreans' quality and our own tension," said Ghotbi, who used to be South Korea's assistant coach.
"I could've changed seven or eight players in the first-half as they really didn't play as well as they can.
"But as the game wore on we got better and unfortunately we lost a goal at the worst moment, but it was a fantastic finish."
South Korea enjoyed the better of a tight contest, having their first chance after a minute, but Manchester United star Park Ji-Sung, winning his 99th cap, totally missed his volley as his side made the far more confident start.
Iran were physical, conceding a series of free-kicks as they attempted to nullify the likes of Park and impressive attacking midfielder Koo Ja-Cheol, who scored four times in the group stage.
On 24 minutes Lee Yong-Rae fired just wide, then four minutes later Iran came closest to taking the lead when Korean striker Ji Dong-Won inadvertently flicked a Mohammad Reza Khalatbari free-kick back towards his own goal.
But Jung Sung-Ryong pulled off a fine save, diving left and low to claw the ball out. It would have been harsh on the Koreans, whose quick movement and slick passing had their opponents running in circles at times.
Ghotbi had seen enough and at half-time brought on Khosro Heidari to replace Mohammad Nosrati, one defender for another.
Yet there was no immediate sign it made any difference, as the Koreans started the second period in front of 7,111 at Qatar Sports Club Stadium much as they had ended the first -- in control but making few clear chances.
The lanky Ji rose highest but could only head straight at Iran keeper Mahdi Rahmati on 63 minutes, then Khalatbari caused mild panic in Korea's box in a rare Iranian raid and moments later Ehsan Haji Safi flashed a drive wide.
Ghotbi threw on striker Masoud Shojai, who plays in Spain for Osasuna, with 15 mins left, as Iran belatedly swung the game in their favour. Cho hauled off the fast-fading Koo for Yoon.
It was a masterstroke.
The match dragged into extra-time with the game square at 0-0 and neither team really threatening to break the deadlock, before highly rated midfielder Yoon finally prised the two sides apart after 105 minutes of football.