England's Andrew Smith and Hong Kong's Chan Yan Kit, who are ranked 15th and 26th in the world, will come to Ho Chi Minh City to compete in the Vietnam Open badminton tournament in mid-November, the organizers announced on Saturday.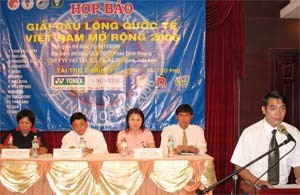 HCM City Badminton Association secretary Tran Nguyen Tri Dung speaking at Saturday's press conference (Photo: Tuong Thuy)
The Yonex-Sunrise Vietnam Open 2006 from November 15 to 19 will feature 122 players (81 men and 41 women) from England, Hong Kong, Indonesia, India, Korea, Malaysia, the Philippines, Russia, Singapore, Taiwan, Thailand, the USA and Viet Nam, the organizing committee told a press conference. 

Ms. Huynh Ngoc Lien, vice chairwoman of the Ho Chi Minh City Badminton Association, said Smith and Chan would be the first and second seeds in the men's singles, while Vietnamese champion Nguyen Tien Minh, at present ranked 60th in the world, would be number three.
In the women's singles, both the first and second seeds, Julia Wong and Mudukasan Sutheaswari, hail from Malaysia.
The US$30,000 tournament has attracted 53 entries in the men's singles, 30 in the women's singles, 24 in the men's doubles, 13 in the women's doubles and 19 in the mixed doubles.
The venue is Phan Dinh Phung Stadium, 8 Vo Van Tan Street, District 3. The first three competition days will be for the qualifying matches, the fourth for the semifinals, and the finals will be played on the last day.
The International Badminton Federation (IBF) will do the draw for the tournament at its headquarters in Malaysia on November 6, Ms. Lien said.
Singapore-based Sunrise, which makes Yonex badminton equipment under license, is sponsoring both the Viet Nam Badminton Federation and the Ho Chi Minh City Badminton Association from this year until 2008.
Ms. Alice Lee, promotion manager for Sunrise, said that besides the three-year deal, her company had pledged to support the Vietnam Open in later years and would work with the organizers to raise the tournament's international standing.
In Viet Nam, badminton is played by professionals and amateurs nationwide. Many people in Ho Chi Minh City play the game every day.
Two years ago the city's Nguyen Tien Minh became the first Vietnamese player to break into the IBF top 100.
Since then Minh's best performances have included victory in the men's singles of the Robot Vietnam Satellite in April 2006, where he defeated the heavily favored ex-Asian champion Jeffer Rosobin of Indonesia. It was the first time the annual tournament had been won by a Vietnamese player.
If Minh wins the Vietnam Open, he will earn 2,400 points from the IBF, Ms. Lien said.