LONDON, Aug 26, 2010 (AFP) - Tottenham striker Peter Crouch set his sights on taking on some of Europe's biggest clubs at White Hart Lane after firing his side into the group stages of the Champions League.
The 29-year-old scored a hat-trick against Young Boys on Wednesday as Spurs won 4-0 in the play-off second leg to wipe out their first leg deficit and cruise to a 6-3 aggregate victory.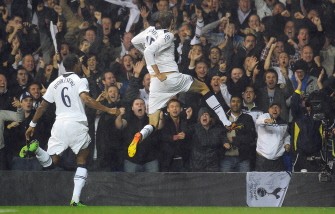 Peter Crouch (R) and Tom Huddlestone (L) celebrate after Crouch scored the first goal. AFP
Harry Redknapp's team go into Thursday's draw as one of the lower seeds, meaning they are guaranteed to face at least one of Europe's heavyweights in the next phase of the competition.
Crouch said: "That's why we worked so hard last season. We want massive games. We want Real Madrid and Inter Milan. You don't know how good you are until you play against the best."
Crouch's goals consisted of two headers and a late penalty that led to Senad Lulic getting sent off, with Jermain Defoe scoring the other.
"All the hard work we put in last season has paid off now," Defoe said. "This means the world to us. It's all about Champions League football. We know we can play on this stage."
Tottenham have forged a reputation of falling when close to success but Redknapp hopes this victory will be a turning point for the club.
He was only appointed two years ago but since steering Spurs away from relegation trouble he has turned them into a top-four team in the Premier League.
"Hopefully the club will keep moving onwards and upwards," he said. "I always hoped I would do this and thought it was possible.
"Tottenham underachieved for a long time and I thought the potential was there.
"Eight or nine of the players against Young Boys were here when I came, it's not like I went out and bought a new team. It was about confidence and changing their attitude in some cases.
"They've responded and finished fourth last season. It was important not to waste the opportunity but we nearly did in the first part of the first leg."
After learning his trade at Bournemouth then moving to West Ham, Redknapp is now considered a role model for other English managers.
"There is a lot of English talent despite what people think," he said. "We're not all idiots. People think I don't understand football because I don't have a posh accent.
"I've worked hard to be where I am and there are others who aren't as lucky who will hopefully get the chance."
Redknapp does have immediate problems to solve, including whether to send Defoe to get surgery on a groin problem that has affected the striker for six months.
He has been scheduled for an operation next Monday but Redknapp said: "He's saying now he might not need it.
"He went to a specialist who said he needed it. But I don't want it to drag out, we have two weeks off after the weekend and he could only be out for three weeks."
Spurs goalkeeper Heurelho Gomes picked up a groin injury in the first half and needs assessment before it is decided how long he will be out.
Croatia goalkeeper Stipe Pletikosa will be brought in on loan as cover for Gomes and Carlo Cudicini.
"He (Gomes) has had a few injuries like this," he said. "We'll have to wait and see. We have Carlo who came on and he's a top goalkeeper.
"He knows everything about the job but I'm looking to sign the Croatia goalkeeper on loan. He played a reserve game and came through fine."