MANCHESTER, England, May 6, 2010 (AFP) - Harry Redknapp vowed Tottenham will take the Champions League by storm next season after his side secured their place in Europe's elite club competition for the first time since the 1960s.
Tottenham's 1-0 victory over fifth-placed Manchester City at Eastlands on Wednesday was enough to guarantee them fourth spot in the Premier League at least.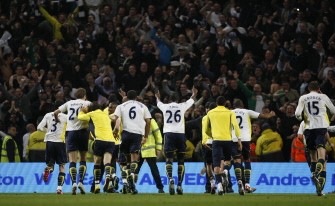 The Tottenham Hotspur squad celebrate with fans at the final whistle after beating Manchester City 0-1. AFP photo
The north London club can still leap-frog Arsenal in third place on Sunday if they win at Burnley and the Gunners lose at home to Fulham.
But even if they have to go through a qualifying round to reach the group stages, Redknapp insists he will adopt an attacking attitude to the Champions League.
It is a remarkable achievement for Redknapp, who has dragged Tottenham out of the relegation zone and transformed them into one of the strongest sides in the top flight since taking charge.
Redknapp, who will sit down with chairman Daniel Levy later this month to discuss his list of close-season transfer targets, was keen not to over-celebrate his team's success, but he admitted it was an impressive effort by everyone at the club.
He said: "We'll have a go. Be positive. Like Manchester United with the wingers. That's the way I like to play football.
"I'm not playing it down, because I'm pleased. The players have done fantastic, I thought the two centre backs were outstanding and Peter Crouch led line really well.
"It was a good all-round performance. I just wanted to finish fourth. I thought it would be a great achievement.
"The chairman has asked me who Arsenal have got on Sunday. They've got Fulham. I doubt we'll get into third but we've made fourth and anything above that will be a bonus."
Everton are the only club from outside the traditional English 'big-four' of United, Chelsea, Arsenal and Liverpool to have made it into the Champions League in its current format.
They perished in the qualifying stages and Redknapp knows it is vital that Tottenham, who last played in the European Cup in 1961-62, avoid a similiar fate.
"It was important someone got in from outside the big four. I could only see Manchester City breaking into the top four. I couldn't see who was going to drop out and it was going to be a touch job getting in there," he said.
"But over 38 games, to be where we are, says an awful lot for us, doesn't it. It's great to win the FA Cup (with Portsmouth) but this is over the whole season.
"I told the players to do this and show they could do it away from home and show people what we were made of.
"We have fought our way through. We were in a relegation battle and it took us some time to get out of it, so to be where we are now is great.
"I haven't thought about next year or bringing new players in. I just wanted to achieve what we have done."
After seeing his close-range header brilliantly saved by City goalkeeper Marton Fulop, Crouch made amends by nodding home in the 82nd minute when Fulop could only push Younes Kaboul's cross into his path.
It was no more than Spurs deserved for a dominant display, but City were disappointing and doubts now remain about Roberto Mancini's long-term future as manager.
The Italian is convinced he will be allowed to remain and mount another challenge, but the club's Abu Dhabi-based owners may think differently after their multi-million pound investment in the squad failed to reap the reward they wanted.
Mancini said: "I'm disappointed. We've been very unlucky in some games, but we must be proud because we've had a good season.
"We've done a good job but we can improve next season. I'm confident I will still be here.
"I think I will stay here. I've worked for five months and I think next season we can have a successful season. I'm not a magician. We have tried and worked very well. This is football."