Singapore has confirmed to send its best players to the 20th Golden Racket International Table Tennis Tournament in Ho Chi Minh City from July 12 to 16, the tournament organizers told the Friday press conference.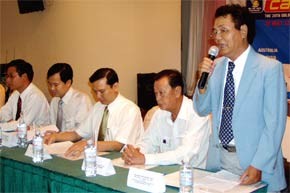 Mr. Truc gives information about the tournament at the press conference on July 7. (Photo: Tuong Thuy)
Mr. Nguyen Trong Truc, vice president of the Viet Nam Table Tennis Federation, said the Singapore team has 14 players, with several being of Chinese origin. Among them, Gao Ning (male) is ranking 33rd in the world's table and Wang Yue Gu (female) holds the 25th position.
Mr. Truc said Viet Nam beat Singapore in the men's team final of the Southeast Asian Championship in May 2006, but at that time the Singapore team did not include their strongest competitors like in the forthcoming Golden Racket Tournament.
He added the Czech Republic and Indonesia have declined to take part in the tournament. Meanwhile, Australia and India will participate for the first time since the annual tournament began in 1987.
This year's eleven teams are Australia (8 players), China's Guangxi (8 players), Hong Kong (8 players), India (8), Malaysia (8), Singapore (14), South Korea (14), Thailand (11) Viet Nam A (10), Viet Nam B (6), and Ho Chi Minh City (16 players). The total is 110 players – 53 men and 57 women.
Mr. Truc said Guangxi, Hong Kong, South Korea and Thailand are also strong teams. Hong Kong has male player Jiang Tian Yi, who is ranking 89th in the world's table, while Korea has female player Jun Hye Kyung, ranking 62nd. 
He added the two Viet Nam teams have prepared for the tournaments for several months, taking different training sessions in Viet Nam and China.
The competitors will vie at Phan Dinh Phung Stadium in District 3 in the men's team, women's team, men's doubles, women's doubles, mixed doubles, men's singles and women's singles. The men's and women's team categories will have two rounds – qualifying and final – while the other categories will be knock-out matches.
In recent years, players from China, Hong Kong, Korea and Singapore obtained higher positions in the Golden Racket Tournament's single categories.