BARCELONA, Aug 19, 2011 (AFP) - Spain reacted with outrage Thursday after Barcelona's 3-2 Super Cup win over Real Madrid descended into violent scenes with defeated coach Jose Mourinho jabbing a rival in the eye.
Television images and photos on the front pages Thursday showed Mourinho poking his finger into the eye of Barcelona coach Pep Guardiola's assistant Tito Vilanova as players brawled on the field.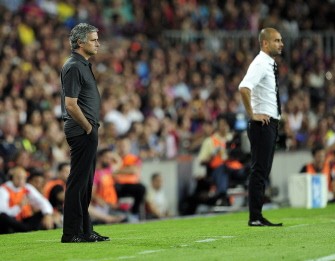 Real Madrid's Jose Mourinho (L) and Barcelona's coach Josep Guardiola (R) look on during the second leg of the Spanish Supercup football match
"Pito Vilanova? I don't know who this Pito is," Mourinho said after the match.
Television pictures showed the Portuguese coach walking over to Vilanova at the side of the pitch and poking him in the left eye.
Barcelona's Vilanova could then be seen giving a smiling Mourinho a hard slap in the back as he walked away.
Barcelona defender Gerard Pique accused Mourinho of wrecking Spanish football.
"Sincerely, Mourinho is destroying Spanish football. Sometimes they say we Catalans are the guilty ones, but the guilty ones are over there in Madrid," he said after the match according to broadcaster RTVE.
"Every game cannot finish like that," he said.
A Lionel Messi double took the European and Spanish champions Barcelona to a 5-4 aggregate win over bitter rivals Real Madrid in their Super Cup second leg clash in the Camp Nou.
But the bad feeling between the two sides boiled over at the end of the match, which ran past midnight and into the early hours of Thursday.
Brazilian Marcelo set off the sparks when he was dismissed for a late challenge on former Arsenal captain Cesc Fabregas, who made his debut towards the end of the game.
In an ensuing brawl on the pitch, Mesut Ozil of Real Madrid and Barcelona's David Villa were also sent off, bringing the red-card total to three.
Fabregas tried to play down the scrap, saying after the match: "It is very competitive football, they are the two greatest clubs in the world, it is a very strong rivalry."
But Guardiola said the violence risked getting out of hand.
"One day someone is going to get hurt and that is what we have to watch out for," he told reporters after the match.
The press lashed out.
"Deplorable Madrid, deplorable Mourinho," blared a headline in Barcelona-based sports daily Mundo Deportivo above pictures of Mourinho's eye-jab.
"Deplorable Mourinho," said the front page of the daily Sport.
"Mourinho and Guardiola's assistant Tito Vilanova were also deplorable protagonists in the final free-for-all. Mou put his finger in the eye of Pep's number two and he replied by slapping the Portuguese on the back," said daily Marca.