PORT ELIZABETH, South Africa, May 23, 2010 (AFP) - The World Cup has brought Port Elizabeth a stunning new landmark in its oceanside stadium, but questions remain about who will fill the stands once the global football fans leave.
"In the South African case, all the stadia were either renovated or constructed by the government. That means that the commercial consideration was never primary," said economist Stan du Plessis of Stellenbosch University.
"Some of these stadiums are simply not going to be in a position to cover their running costs. In that sense, they will be loss making."
South Africa has poured 20 billion rand (2.6 billion dollars, two billion euros), multiples of the original estimates, into 10 stadiums in nine cities to showcase Africa's first World Cup.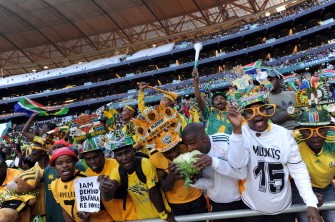 Excited Bafana Bafana fans over joyed to be at Soccer City in Soweto on May 22, 2010 wear makarapas during a local soccer game. AFP photo
White elephant fears often dog major sporting events with Athens 2004 Olympics facilities said to be rusting away amid early rumbles about London 2012.
In South Africa's smaller towns like Nelspruit and Polokwane, and distant cities like Port Elizabeth, local officials are already wondering how to keep their new world-class stadiums running.
Port Elizabeth's two-billion-rand, 46,000-seater hopes to lure a top football or rugby team to offset its annual 18 million rand running costs.
"I don't think you can ever get the money back on the stadium," Stephan Pretorius, chief executive of the stadium's private management firm told AFP.
"The stadium is built really for the community. The idea would be that we make the stadium as successful as possible. People here are very hungry for sport and they are very hungry for events and concerts."
The building boom shielded South Africa from the global recession, and the tournament is expected to boost the economy by 0.5 percent this year.
But concerns about the stadiums themselves extend even to Cape Town, the priciest pitch at 4.5 billion rand, in FIFA's preferred location on prime property amid premier tourist sites.
A developing country like South Africa did not need new mega-stadiums, argues Andrew Jennings, author of "Foul! The Secret World of FIFA: Bribes, Vote-Rigging and Ticket Scandals".
"Who is going to pay the bill? South Africa," he told AFP. "It is a saga of greed from FIFA, they don't care about South Africa."
"There has been a shameless exploitation of South Africans. They have been left with white elephants, it is now for taxpayers to pay the bill."
For Germany's 2006 World Cup, clubs oversaw much of the construction, but only three 2010 stadiums have home teams to help ensure future success.
Durban city manager Mike Sutcliffe has called for an urgent post-tournament look at sustainability, saying all host cities face "huge funding issues".
"If I'm battling in a big city, I'd hate to know what my colleagues are doing in Polokwane and Mbombela (Nelspruit)," he recently told lawmakers.
Polokwane in undeveloped northern Limpopo -- host to a 1.3 billion rand stadium with annual bills of up to 17 million rand -- has already turned to the treasury for more cash.
"At the moment we'll need that type of funding to let our programmes run through effectively. We need it now. Unfortunately we can't wait until the end of the World Cup," the city's 2010 director Ndavhe Ramakuelue told AFP.
Both Polokwane and Port Elizabeth have shrugged off white elephant labels.
But according to Du Plessis, only Durban and Johannesburg's Soccer City have promising chances. Though he stops short at dishing out whites elephant labels.
"These stadiums are actually built for something very specific. They will host a great World Cup. So in that respect they are not a white elephant," he told AFP.
But "a number of them will simply not be viable in the long run."