JOHANNESBURG, May 30, 2010 (AFP) - Every year a host of unknown African footballers arrive in the nation that will host the 2010 World Cup dreaming that they might become the next Didier Drogba or Samuel Eto'o.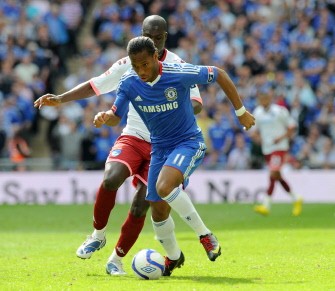 (AFP file) Chelsea striker Drogba (in blue)
They come from as far away as Liberia, a west African country healing the wounds of civil war, and as near as Botswana, a relatively prosperous and tranquil neighbour of South Africa.
All have one goal - to seek fame and fortune in a country where football offers salaries ranging from 3,000 to 14,000 dollars per month, high living standards, worldwide TV exposure, and the chance of a transfer to Europe.
"There is a lot of money and African footballers see the Premier Soccer League (PSL) as a stepping stone to Europe. We get noticed because games are televised globally," said Mamelodi Sundowns midfielder Esrom Nyandoro.
Zimbabwe international Nyandoro is an extremely lucky 'import' as he plays for a club bankrolled by mining magnate Patrice Motsepe, who pays wages even crowd-pullers Kaizer Chiefs and Orlando Pirates struggle to match.
Other foreign-born members of the Sundowns squad are Mozambican Elias 'Domingues' Pelembe, Zambian Felix Katongo and Brazilian Eduardo Ferreira with two Zimbabweans set to join the Pretoria-based club in mid-year.
Neighbours SuperSport United, champions a record-equalling three times after their success two months ago, boast Ugandans Dennis Onyango and Brian Umony, Liberian Anthony Laffor, Mozambican Dario Monteiro and Zambian Davis Nkausu.
But the jury is out on the effect permitting clubs to hire and play five foreigners has on domestic football, with some critics claiming it is partly to blame for Bafana Bafana (The Boys) slumping to 90 in the world rankings.
"The issue is complex because too many foreign players will have a negative impact, in the end, on the national team," PSL chief executive Norwegian Kjetil Siem told AFP.
"Because many of the foreigners playing here are not well paid they are not the best and generally do not lift the standard of play, although we do have some good ones."
Local coach Gordon Igesund, winner of a record four Premiership titles with four different clubs, believes South Africa should take a lead from England and hire only foreigners who feature regularly for their national team.
"My concern is there are too many mediocre non-South Africans in the Premiership, who are bought because they will accept a lower salary than a South African," he explained.
South Africa is the football Eldorado of Africa with the 16 PSL clubs, who came from six of the nine provinces, chasing 11 million dollars prize money in the league and FA Cup, League Cup and MTN 8 cup competitions.
The MTN 8, an early-season knockout event sponsored by a mobile telephone company for the top eight finishers in the previous champonship, offers a 1,1 million first prize.
As a winner-takes-all competition, it is unique in South African football with no other prizes and the winners play only three matches to collect the cheque.
To win the African Confederation Cup, one of two annual Pan-African club competitions, a team must play at least 16 matches for a 660,000-dollar prize and there is no cash on offer until the group phase.
But money is no guarantee of excellence where it matters most - on the pitch - with South African Premiership standards occasionally great,sometimes good and often mediocre, lagging behind Egypt and Tunisia.
Where South Africa does lead the way is TV coverage with public broadcaster SABC and pay channel SuperSport providing live multi-camera coverage of many matches followed by in-depth analysis from ex-stars, and public phone-ins.