TOKYO, May 25, 2010 (AFP) - South Korea's World Cup squad flew to Austria Tuesday for altitude training and their final warm-up matches after coach Huh Jung-Moo gave the thumbs-up to a 2-0 win over arch-rivals Japan.
Huh, who aims to take the 2002 semi-finalists into the last-16 in South Africa, had particular praise for AS Monaco striker Park Chu-Young who marked his comeback from injury with a late goal.
"It was regretabble that I could not use Park Chu-Young on the first team," he said.
"But, offensively, the team played freely within their abilities by swapping positions. I want to commend the way they played.
"What we still need is to play sensitively and sharply on counter-attacks."
Captain and Manchester United star Park Ji-Sung scored early and Park Chu-Young added a penalty in second-half stoppage time to inflict a second defeat on Japan in three months.
The hosts barely threatened South Korea's goal as their reputed midfield, led by former Celtic star Shunsuke Nakamura and CSKA rookie Keisuke Honda, struggled to perform.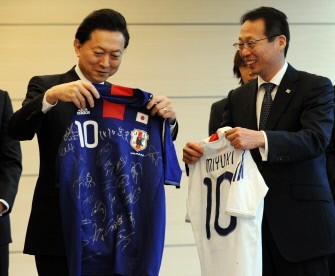 Japanese Prime Minister Yukio Hatoyama (L) looks at a signed uniform received from Japan National Football team head coach Takeshi Okada (R) at Hatoyama's official residence in Tokyo, on May 25, 2010. AFP photo
The result Monday night in Saitama was South Korea's third straight international win after they whipped Japan's home-based players 3-1 in Tokyo in February and brushed aside Ecuador 2-0 at home on May 16.
It has boosted Huh's squad ahead of their World Cup clashes with Greece, Argentina and Nigeria.
Park, who scored nine goals and set up three others for Monaco in the past season before an injury to his right hamstring, was sent on at half-time.
He was positioned as the front man as Huh changed his system to a defensive 4-2-3-1 from an offensive 4-4-2.
After 90 minutes, the Monaco hitman took a pass on the break but was felled by Japan goalkeeper Seigo Narazaki in the box. Park duly slotted in the penalty.
"I am sure he (Park) will play great as his condition improves," the coach said.
Huh used Jung Sung-Ryong, 25, for the second straight time as goalkeeper, sidelining 37-year-old veteran Lee Woon-Jae.
"Competition is always needed beyond age and seniority," explained Huh, who is responsible for South Korea's 21 wins, four losses and 13 draws since taking over from Dutchman Pim Verbeek, now the Australia coach, in 2007.
United's Park Ji-Sung needed only six minutes to open the scoring after picking up the ball from a header by Japan's Gamba Osaka midfieder Yasuhito Endo, and finding the goal with his right foot from just outside the area.
"We always feel great pressure when we fight Japan. But we played patiently and it gives us a momentum toward the World Cup," said the 29-year-old who joined United in 2005 after playing in Japan and the Netherlands.
"I'm not yet 100 percent. But I have enough time before the World Cup," he added.
South Korea, who will be making their seventh consecutive World Cup appearance, head to Innsbruck to acclimatise for South Africa and play games against Belarus on June 30 and Spain on June 3.