BUENOS AIRES, Argentina, July 9, 2011 (AFP) - The form of Lionel Messi in the national shirt has again come under the microscope in Argentina, with his father and a well-known singer praising him amid reports of an on-field spat with a teammate.
Media were all agog after veteran Javier Zanetti dismissed as 'normal' a verbal altercation between defender Nicolas Burdisso and Messi after Burdisso blasted the Barca man for in his view shirking defensive duties.
Fans, meanwhile, are complaining loudly about not seeing anything of his usual attacking spark.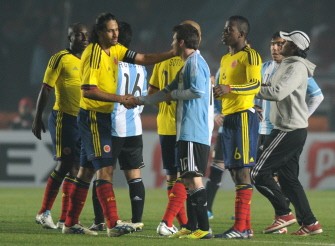 AFP - Colombian defender Mario Yepes (L) greets Argentine forward Lionel Messi (C) at the end of a 2011 Copa America Group A match on July 6, 2011. The match ended 0-0.
Argentina fans have long pondered why Messi just cannot produce his Barcelona form for his country -- and many see him as having become a naturalised Catalan havnig joined Barca as a young teen.
After Burdisso used some choice words in Messi's direction, the latter's father Jorge spoke on his son's behalf while a pop singer also penned a paean to the striker.
"Leo is having a really tough time," said Jorge Messi. "The people can think what they like but what hurts most is what the media say. They are throwing oil on the fire," he told Radio 10 on Friday.
Jorge Messi shrugged off the Burdisso incident but said that Leo was mortified to hear the home fans boo the side off after their draw in Santa Fe with Colombia which left the hosts needing to beat Costa Rica to advance from the pool phase.
"That was really hard," said Messi senior.
Popular singer Andres Calamaro meanwhile penned a paean to Messi on his website, saying that "we (the fans) don't deserve you."
Calamaro wrote: "Everyone speaks about the team and then they crucify you. We don't deserve you. You just play your game which has won you everything."
Calamaro and Messi are good friends, the player having once given the singer a Barcelona shirt he had worn against Real Madrid.
"We want to see you play well and scoring goals. Go Leo!" said Calamaro.