LONDON, July 1, 2011 (AFP) - Maria Sharapova will attempt to complete her long journey back from the wilderness at Wimbledon on Saturday when she takes on Czech eighth seed Petra Kvitova for the women's singles crown.
The 24-year-old Russian fifth seed is the overwhelming favourite to reclaim the title that she won for the first time in 2004, when as a fresh-faced teenager she took the All England Club by storm.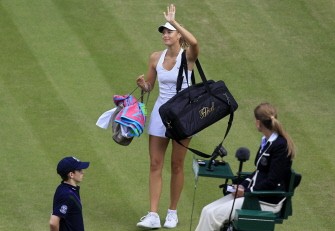 AFP - Maria Sharapova bids farewell to the crowd after defeating German player Sabine Lisicki in a Women's semi-final match at the All England Tennis Club on June 30, 2011.
Sharapova's victory in SW19 seven years ago was followed by further Grand Slam titles at the Australian and US Opens by the time she turned 21, a period that also saw her rise to world number one.
But Sharapova's march to the summit of women's tennis has been blown off course since 2007, when a serious shoulder injury led to a long lay-off which led many to wonder if she could ever be the same player.
Yet this season has provided the first solid proof that Sharapova is ready once more to fulfill her vast potential, with a semi-final run at the French Open followed by her serene progress into the Wimbledon final.
With Serena and Venus Williams showing signs of decline, Justine Henin retired and Kim Clijsters injured, there is a vacancy at the top of the women's game that Sharapova looks equipped to fill.
Sharapova admitted she had endured dark days in 2008 and 2009, when she was struggling back from shoulder surgery and she dropped out of the top 100.
"There were doubts because I had many expectations on when I would come back. I set myself certain goals and I never really met any of them, to be honest," she said. "So that was frustrating.
"You're going to have certain doubts when you go through something like that knowing that not too many players have recovered fully."
Sharapova insists however that quitting was never an option, and she remained driven by the memory of the glittering early years of her career.
"I'm not really the type of person that ever gives up. Even though it was tough, I believed in myself," she said.
"I give a lot of credit to my team that was around me. It takes a good team to really keep you in high spirits.
"I think when you know how good it feels to lift the big trophies, the ones you really want in your career, and when you know how good you can play ... I never had the interest of stopping.
"I always felt like I had a lot better things in me."
Sharapova has yet to drop a set en route to this year's final, and confidently disposed of the big-serving German wildcard Sabine Lisicki in the semi-final, winning in straight sets 6-4, 6-3.
Sharapova is bracing for a sterner challenge from Kvitova in Saturday's final however, the 21-year-old Czech challenger who is appearing in a Grand Slam final for the first time.
"I expect her to be a really tough opponent because she's a really good grass court player," said Sharapova, who won her only previous meeting with Kvitova on hard court at Memphis last year.
"She's also a lefty, which on grass is very tricky. It will be tough. She's been playing really good tennis."
Kvitova is the first left-hander to make the final at the All England Club since her childhood inspiration Martina Navratilova in 1990.
"I saw Martina in the locker room and she wished me good luck. I'm so happy but I don't really believe I am in the final," said Kvitova, who upset fourth seed Victoria Azarenka 6-1, 3-6, 6-2 to reach the final.
Azarenka believes Kvitova is capable of bucking the odds for a second time when she faces Sharapova in the final.
"I think she can beat anybody any day, because right now she has really good game. She's really going for it. She's going to play like this, I'm sure she has all the chances to win the next match," she said.