Saigon giaiphong Sports Newspaper, the co-organizers of 'Result prediction for 27th SEA Games' contest held an award ceremony for readers who predicted exactly the results for the 27th  SEA Games.
Deputy Editor-in-Chief of SGGP Newspaper Nguyen Nhat (R) awards the first prize for reader (Photo:SGGP)
The 27th SEA Games officially closed with final results in the medal tally, including Thailand ranked the first position, host country- Myanmar ranked the second position and Vietnam ranked the third position.
Particularly, the Vietnam men's football team could not go through the semi-finals, ranking sixth position.
This year, the award included a first, second, third prize and five consolation prizes.
On the occasion, SGGP Sports Newspaper sent thanks to all readers who participated in this contest in particular and those who support the Newspaper so far in general and wish them good health.
List of readers is awarded 'Result prediction of 27th SEA Games'
The first prize went to Vo Thanh Tam from Rach Gia District in Kien Giang province.
The second prize went to Huynh Van Son from Chau Thanh District in Long An province.
The two-third prizes belonged to Pham Thanh Nghiem from Binh Duong and Trinh Hoang Kim from District 11 in Ho Chi Minh City.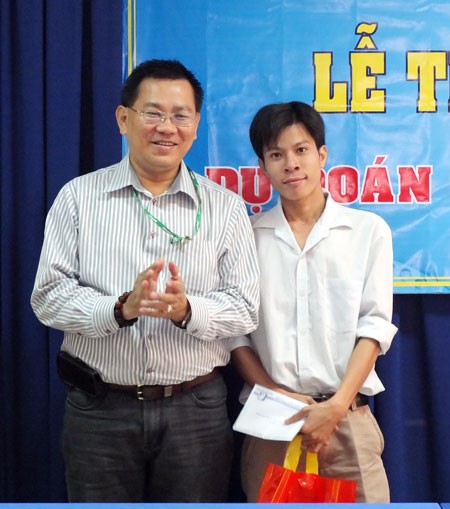 Representative of Nutifood awards the second prize for reader (Photo:SGGP)