MADRID, March 15, 2010 (AFP) - Sevilla can reach the Champions League quarter-finals for the first time on Tuesday if they defeat CSKA Moscow in the second leg of their last 16 tie after battling to a 1-1 draw in the opener.
Sevilla won back-to-back UEFA Cups in 2006 and 2007 but have never gone beyond the last 16 of the Champions League while this is the first time CSKA, 2005 UEFA Cup victors, have reached the knockout stage.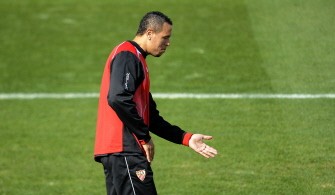 Sevilla's Brazilian forward Luis Fabiano takes part in a training session on March 15, 2010 at the Ciudad Deportiva in Sevilla, on the eve of a Champions league football match against CSKA Moscow. AFP PHOTO
Sevilla can become the first Spanish side, with Real Madrid already out and Barcelona playing VfB Stuttgart on Wednesday, to book their place among the last eight.
"We will go in Tuesday's match against CSKA with high hopes and will go for the victory without thinking about the result from the first leg," insisted Sevilla coach Manolo Jimenez.
"We are involved in three competitions which we can be proud of. It takes its toll but we want to do well on Tuesday (against CSKA), be in the Champions League next season and win the (Kings) Cup."
Sevilla drew 1-1 at home to Deportivo La Coruna on Saturday to stay fourth in the table but Jimenez called for his team to start killing teams off.
"We have to be more clinical in front of goal," explained Jimenez. "We have three magnificent strikers in (Luis) Fabiano, (Frederic) Kanoute and (Alvaro) Negredo but they haven't been able to hit top form at the same time mainly due to injuries.
Kanoute, Fabiano and Negredo, who scored the goal in the first leg in Moscow, are all fit to play giving Jimenez a tough decision to make.
French defender Julien Escude believes Sevilla have been unfairly criticised for recent displays and said the club was due some luck.
"We have received a lot of criticism, but lately we have changed, and have more possession now in the centre of the pitch," said Escude. "We just need that bit of luck to make it work, which hopefully will arrive on Tuesday."
Sevilla can get through with a 0-0 draw while CSKA know they have to score to have any chance of reaching the last eight.
Sevilla were unbeaten at home in the group stage drawing with VfB Stuttgart and defeating FC Unirea Urziceni and Rangers but the Russians, just one game into their domestic campaign, have already shown their potential on the road drawing 3-3 at Manchester United in this season's group stage.
"Sevilla have a group of top-class attacking players but, like any side, they have their weaknesses and we'll try to exploit them," said CSKA manager Leonid Slutsky.
Slutsky will pin hopes on highly-rated Serbia and Montenegro midfielder Milos Krasic, 25, who has scored four goals in this season's Champions League.