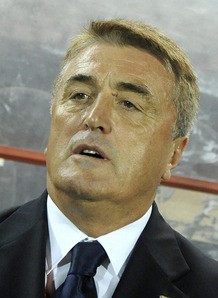 Serbian coach RadomirAntic
PARIS, May 21, 2010 (AFP) - Serbian coach Radomir Antic says that his aim isto go a long way in the World Cup finals having finished top of their qualifyinggroup, but even a win would be welcome after a disastrous showing at the 2006edition in Germany.
Serbia go into battle alone thistime having appeared as Serbia and Montenegro in Germany, though the majority ofthe squad were Serbian, and will earnestly be hoping they have more successagainst Australia, Africa Cup of Nations finalists Ghana and European giantsGermany.
All three of their opponentsperformed better than they did in 2006 and will be looking to take at least apoint off Serbia, who came away pointless from their group matches, whichincluded a 6-0 humbling by Argentina and rounded off with a 3-2 defeat by IvoryCoast.
Antic, who in a long managerialcareer is the only man to have coached Real and Atletico Madrid and Barcelona,believes that having topped a group including 2006 finalists France, his mainlyyoung side has gained the added weapon of confidence no matter who theopposition.
Antic, who guided Atletico to thedomestic double in 1996, is wary of the Germans, however, even if they will nowbe missing their leader and midfield dynamo Michael Ballack, after he sufferedan ankle injury in the FA Cup final.
"Football is a simple game and ifyou have balance in the squad then you can get results," the 60-year-old toldGoal.com in April.
"We have a balanced team and arelooking forward to the challenge in South Africa.
"We are confident, but we know thatGermany are a very good team. They are always well-organised in defence andattack.
"They are a compact team anddangerous from freekicks.
"We know the German team mentalityand we know that we are in for a very tough game when we face them (on June 18in Port Elizabeth)."
Antic does have several talentedplayers to call upon in key positions.
Nemanja Vidic has had a difficultseason for deposed English champions Manchester United with rumours circulatingat one point that he was looking for a move away to Real Madrid, but his formhad recovered by the end of the campaign.
Vidic, who insisted in early Maythat he had no intention of going anywhere, believes that while this time roundwill be as tough as 2006, there were extenuating circumstances for the poorshowing in Germany.
"We had a problem with injurieslast time and were in a difficult group to start with and it just didn't gowell," the 28-year-old told FIFA.com.
"Obviously it is not easy this timeeither but I don't think we should complain about that.
"We have some players who are atgood teams in Europe and we still have a chance to reach the nextround."
While Vidic will be expected toshore up the defence along with Chelsea's double winning defender BranislavIvanovic, much is awaited of the dribbling and playmaking skills of 25-year-oldMilos Krasic, who bedazzled many a defence in CSKA Moscow's march to theChampions League quarter-finals this season.
Krasic should have the freedom todisplay his skills with veteran captain Dejan Stankovic alongside him inmidfield, the 31-year-old coming off a stellar season with Inter Milan havingalready collected Italian Cup and Serie A title medals this season and couldcrown it at club level with the Champions League on Saturday against BayernMunich.
Serbia are none too poorly up fronteither with the lanky Nikola Zigic of Spanish outfit Valencia and Marko Antelicof Ajax a potent strikeforce when on song.
On paper at least Serbia and Anticcan approach the finals with a certain amount of well-based confidence butanother spate of injuries such as in 2006 and a repeat of that humiliation couldbe on the cards again.