Uzbekistan's U23 team took the trophy of the Vietnam Football Federation-Eximbank Cup at My Dinh National Stadium in Hanoi Sunday as the hosts came second after drawing with Malaysia.
U23 Malaysia tied U23 Vietnam 1-1 in the last game of the Southeast Asia Games warm-up competition. Therefore, the Uzbek side gained the trophy with US$25,000 in cash prize after beating U23 Myanmar 2-1.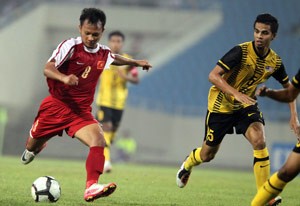 Vietnam's midfielder Nguyen Trong Hoang (L) in action during the U23 Vietnam vs. U23 Malaysia game at Hanoi's My Dinh National Stadium on Oct. 23, 2011 (Photo: SGGP)
The hosts came second, followed by Malaysia and then Myanmar in the pre-SEA Games tournament, which saw the four teams competing in a round robin format.
Vietnam missed their last chance to win the cup when a striker Hoang Dinh Tung shot just before the final whistle hit the post.
Midfielder Nguyen Trong Hoang fired for the hosts in the 25th minute with a high shot from 20 meters. His teammate Nguyen Van Quyet had a clear chance to broaden the gap but he failed to beat the Malaysia goalkeeper in a head-to-head situation.
Malaysia, the SEA Games defending champions, equalized just before the break with an unstoppable free kick from 25 meters by captain Baddrol Bakhtiar.
Vietnam beat Myanmar 5-0 Wednesday and drew Uzbekistan 1-1 Friday before the last matchday of the tournament.
The Uzbek side, who beat Malaysia 3-1 Wednesday, won the cup with two wins and one draw.
Indonesia will host the 26th SEA Games in November. In the men's football, the hosts are in Group A together with defending champions Malaysia, regional powerhouse Thailand, Singapore and Cambodia. Group B has six teams: Brunei, East Timor, Laos, Myanmar, the Philippines and Vietnam.