JAKARTA, Nov 16, 2011 (AFP) - A flurry of golds catapulted Vietnam into second place in the medals table at the Southeast Asian Games Wednesday as Thailand's momentum stalled and hosts Indonesia endured a relatively quiet day.
Buoyed by a near clean sweep of the gymnastics on Tuesday, Vietnam's athletes had notched 10 golds by Wednesday evening taking their tally to 54 and 167 medals overall, edging ahead of the fancied Thai team who had 52 wins.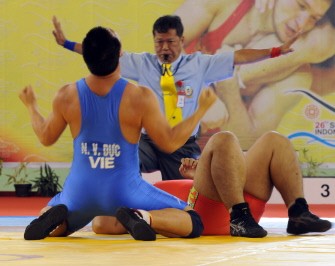 AFP - Nguyen Van Duc (L) of Vietnam celebrates his win over Chivinn Chum of Cambodia, while the referee gestures during the men's 120kg wrestling competition at the 26th SEA GAMES in Palembang on November 15, 2011.
Vietnam's victories were scattered across several events, with braces of golds in chess and rowing adding to wins in the shooting and vovinam -- a Vietnamese martial art making its Games debut.
The success nudged Vietnam ahead of Thailand, who could only muster three golds, after bouncing back from a disappointing start to the 26th SEA Games with a strong showing in the headline athletics events.
Indonesia, who earlier claimed their 200th medal of the Games, had a slow day after a contagious gold run over the first five days of competition, but still secured nine golds to keep them in top spot in the medals table with 87 first places.
Long distance runner Triyaningsih -- who like many Indonesians goes by one name -- provided the highlight of their day, taking the women's marathon and with it her third gold after the 5,000 and 10,000 metres.
Expectation was also building for the hosts' free-scoring football team, who have already qualified for the semi-finals of the under-23 event and take on arch-rivals Malaysia in a hotly anticipated game Thursday in Jakarta.
Although Malaysia are virtually guaranteed a semi-final spot -- they will qualify unless they lose to Indonesia and Singapore rout Thailand -- the match between the bitter rivals is expected to draw tens of thousands of spectators.
Malaysia's coach pledged to go for a win, telling state media his players will go all out to upset the unbeaten hosts.
"The time has come... we must show what we are made of," Kim Swee Ong was quoted by Bernama as saying.
Much of the preamble to the game has focused on the success of Indonesia's Papuan contingent led by Patrich Wanggai, Titus "Tibo" Bonai and Oktavianus Maniani who have starred in the three group games so far.
Wanggai is the competition's second top scorer with four goals while Bonai and Maniani have been integral to the hosts fast-breaking style which has seen them score 11 goals.
The players have joined Papuan gold medal sprinters Franklin Ramses Burumi and Serafi Anelis Unani as pin-ups for Indonesian unity despite an ongoing government crackdown on pro-independence protests in their home territory.
"This is sport not politics," Burumi, who took both the 100 and 200 metre sprints, told the Jakarta Post. "I will only say we want peace and security in Papua.
"We have shown what we can achieve, so please never underestimate the Papuan people."
Myanmar took their first gold of the Games, with a win on the archery range for Aung Ngeain. They are targeting a strong finish to the football competition after cruising through to the last four -- where they could face hosts Indonesia.
Elsewhere a 76-year-old grandmother who bagged two silver medals at bridge competition -- the oldest person to make the podium at this year's Games -- said she was eyeing a return at the 2015 edition on home soil in Singapore.
Despite her canny play Lai Chun Ng, who is older than the Games she is taking part in, fell agonisingly short of securing the cash bonus offered by Singapore's athletics bosses to gold medal winners.
"Look at the other athletes, they are all young ones," she was quoted as saying by the Jakarta Globe.
"I'm very thrilled at my age that I can still do something and win medals for the country," she added.
Little watched outside the region the biennial SEA Games sees 11 nations compete for bragging rights with hundreds of gold medals up for grabs.