Vietnam have secured 11 gold medals by 4 pm Sunday the ongoing Southeast Asian Games in Indonesia to rank third on the rally table.
At 1 pm, Vu Thanh Hung achieved the first gold for Vietnam in shooting. His medal came from the men's 50-meter riffle category. His teammate Ha Minh Thanh then secured another gold in the men's 25-meter pistol rapid shooting.
After that, Vietnamese women Nguyen Le Dung clinched a gold medal in fencing.
The Vietnamese contingent won two golds on the Sunday morning from canoeing and athletics. Nguyen Thi Thanh Phuc was the fastest in the women's 20-kilometer walking.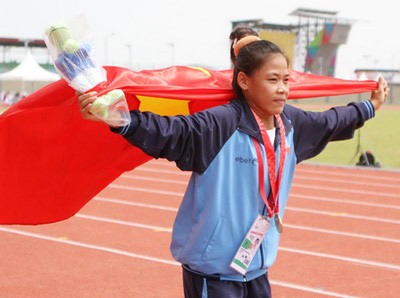 Vietnam's Nguyen Thi Thanh Phuc celebrates her gold medal after winning the women's 20-kilometer walking in SEA Games on November 13, 2011 (Photo: Quang Nhut)
Meanwhile, Nguyen Thanh Quang bagged a gold medal in the men's single 200-meter kayak category.
By 4 pm Sunday, Vietnam also won 9 silvers and 15 bronzes.
Vietnam earned six golds on November 12, a day after the opening ceremony.