JAKARTA, Nov 14, 2011 (AFP) - Thailand enjoyed a gold-laden Monday capped by victory in the women's team badminton but Indonesia kept their comfortable lead at the top of medals table with another dynamic display that yielded 14 wins.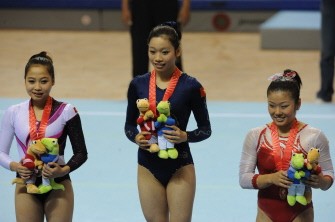 AFP - Vietnamese gold medalist Phan Thi ha Thanh (C), Vietnamese silver medalist Do Thi Ngan Thuong (L) and Singaporean bronze medalist Lim Heem Wei (R) pose for a photograph after the women's all round gymnastic artistic final during the SEA GAMES in Palembang on November 14, 2011.
The hosts had won 58 golds late Monday boosting their total medal haul to 141, with Thailand -- table-toppers in the 2009 Games -- unable to peg them back so far despite changing gears after an unimpressive opening.
In what now looks like a two-horse race, the Thais have 35 gold medals and 97 podium finishes overall, after their women's badminton team stunned a rowdy crowd with a gruelling four-and-half-hour victory over the hosts.
Sixteen-year-old Ratchanok Inthanon was at the heart of the sensational 1-3 win, beating the fancied Adriyanti Firdasari by a slender 12-21, 21-19, 19-21 in the second singles match to tee-up the team victory.
The visitors also enjoyed a good day in track and field events with Tantipong Phetchai taking the hammer final with a 61.46 metre effort -- nearly 1.5m beyond second place -- while Laphassaporn Tawon claimed the women's 200m.
It put them a nose ahead of the hosts in the athletics charts with nine golds.
But the Thais have their work cut out to eclipse Indonesia, after the home athletes continued their fine run with a sackful of golds as they target finishing with most medals at the Games for the first time since 1997.
With the preliminary rounds of smaller sports such as archery, table tennis and rowing dominating much of the day in Palembang -- which is co-hosting the competition -- Indonesia focused on indoor wins in the capital Jakarta, including in Taekwondo and wall climbing.
Vietnam fell further behind, their early momentum stalling to leave them on 27 golds, while Singapore held steady in fourth place in the medals table with a typical strong showing in the swimming pool helping them to 65 medals.
Team Singapore was boosted Monday with reports saying that 31 athletes hit by food poisoning were recovering well at the Palembang Games village.
Rank underdogs East Timor finally broke their medal duck with a bronze to Luisa Dos Santos in the women's Taekwondo while the Philippines added to its paltry gold tally with wins in bridge, billiards and wall climbing.
Monday also saw the start of the pencak silat competition -- a traditional martial art popular in Indonesia, Malaysia and Singapore -- amid a growing chorus condemning indigenous sports as a sideshow from the Olympic events.
A Thai representative from the nation's National Olympic Committee said the biennial SEA Games was becoming less competitive as hosts choose niche sports favouring their athletes.
"The inclusion of too many 'traditional sports' has caused damage to the SEA Games," Charoen Wattanasin told the Bangkok Post.
The claim was disputed by coaches and players at the pencak silat arena on Monday.
"It is a way of life... it is important to be here to keep our culture strong," said Indonesian coach Karyono, who goes by one name.
Spurred on by boisterous local support, Indonesia has been in striking form.
Their efforts in karate, athletics and rowing have been richly rewarded, while their U23 football squad have eased into the semi-final after a string of impressive victories.
And with the crowd roaring them on at every event with a chorus of "Ayo Indonesia Bisa" -- "Come on Indonesia, we can do it!" -- their athletes have battled back even when failing to emerge on top form.
Indonesia was awarded this year's Games in 2006 but the government has been criticised for failing to release cash to organisers Inasoc to build venues, causing an embarrassing delay to the athletes' village in Palembang.