Vietnam's Under-23 team beat Laos 3-1 in the last game of Group B in the Southeast Asian Games in Indonesia's Jakarta Thursday, qualified for the semifinals as the group leaders.
Myanmar had already gone through to the semifinals with 13 points as Vietnam did Thursday, but ranked second due to goal difference.

Vietnam came back from a goal down to defeat Laos. Just five minutes into the group's last match at the Lebak Bulus Stadium, Lao striker Keoviengpheth fired with a low shot from close range to push his side ahead.

Not long after the goal, Vietnam captain defender Nguyen Thanh Long Giang was sent off with a red card because of his tackle against a Lao player.
Conceding the early goal and playing with 10 men, the Vietnamese side could not play the first half in the way they had planned.
However, Vietnam regained balance in ball possession after the break and played aggressively. However, they failed to equalize in the first 20 minutes of the second half.
Striker Tran Dinh Tung in the 65th minute made it with a close finish in a disorder inside the Lao penalty box. Just one minute before that, his shot hit the bar.
Tung, as a shuttling forward, continued to threaten the Lao keeper. In the 71st minute, his teammate Nguyen Van Quyet found a comfortable cross from Tung and converted it into a goal to push 10-man Vietnam ahead.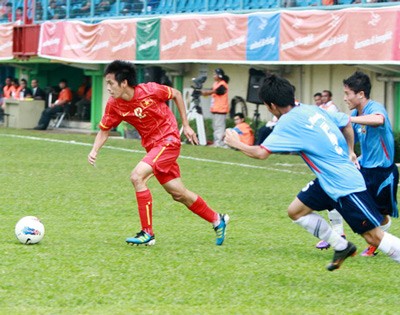 Vietnam striker Nguyen Van Quyet (L) chases for the ball against a Lao player during their SEA Games match at Lebak Bulus in Indonesia's Jakarta Nov. 17, 2011. (Photo: The Thao Van Hoa)
Laos captain striker Lamnao Singto was sent off with a red card a few minutes later as he intentionally hurt a Vietnamese defender.
Both sides played with 10 men each. Vietnam further intensified pressure and this resulted in a penalty when Lao defender Ketsada Sousavath tackled Van Quyet down in the penalty box in the 86th minute. Vietnam midfielder Nguyen Trong Hoang failed to net as his shot was wide.
Striker Nguyen Van Thang sealed the Vietnamese side's 3-1 victory with a finish from close range in added time.
In another SEA Games match that took place at the same time, Singapore in Group A beat powerhouse Thailand 2-0 at the Gelora Bung Karno Stadium also in the Indonesian capital.

The Thais conceded their third defeat in the group and were unqualified for the semifinals. Singapore now have seven points but are behind Malaysia in the standings due to goal difference.
SEA Games defending Malaysia are to play high flying hosts Indonesia in the group's last match at 7 pm at Gelora Bung Karno to identify the group winners.
On Saturday, Group A's winners will take on Myanmar while Group A's runners-up play Vietnam.
The semifinal winners will play the final to compete for the gold two days after that.