Vietnam came from behind to secure a 3-1 win over the Philippines in the opening Group B match of the Southeast Asian (SEA) Games at the Bung Karno Stadium in Indonesia's Jakarta Thursday.
The U-23 football team wasted many clear goal chances during the SEA Games opener. After the kickoff whistle, they dominated possession but constantly failed to convert any chance into a goal.
Midfielder Nguyen Van Quyet in the 20th minute dribbled the ball over Filipino keeper Richard Muller but he was dispossessed in front of the net. Forward Le Van Thang then missed two other chances.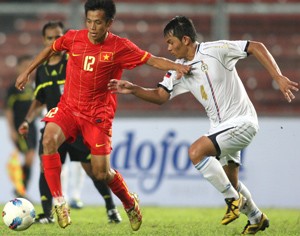 Vietnam's Nguyen Van Quyet (L) fights for the ball against a Filipino player during their group B opening game at Bung Karno in Jakarta on Nov. 3, 2011. (Photo: Dung Phuong)
While coach Falko Goetz's side were playing aggressively, things changed in the 37th minute. Filipino striker Manuel Ott fired to beat Vietnam goalie Nguyen Tuan Manh with a low shot.
The Philippines took the lead and Vietnam failed to equalize in the first half. The red side continued their attacks after the break but keeper Muller continued to turn them down.
Vietnam captain Pham Thanh Luong expanded his area and increased his efforts on the right wing, threatening the Philippines more. However, the equalizer did not come from a red player.
Philippines captain Matthew Hartmann made a mistake in the 60th minute while trying to clear the ball from a cross from the left wing, and his clearing header defeated goalie Muller. Not long after that, substitute midfielder Le Hoang Thien pushed Vietnam ahead with a low shot outside the penalty box after Muller's efforts to clear the ball.
Vietnamese players kept attacking while many players of the other side were already tired. Various scoring chances were created but no more success until added time. Midfielder Nguyen Van Quyet finished off the game as his shot bent the ball into the net.
After the game, Myanmar beat Laos 3-2 in another group B match.
Vietnam will take on Myanmar on Saturday at the Lebak Bulus Stadium also in Jakarta at 7 pm after the Philippines play East Timor at 4 pm.