Both Myanmar and Vietnam secured their second wins in the 2011 Southeast Asian Games in Indonesia's Jakarta on Wednesday to take the lead of Group B.

Vietnam's 2-0 victory over Timor Leste Wednesday night at the Lebak Bulus Stadium pushed the 2009 SEA Games runners-up to the second position after Myanmar, who smashed Brunei 4-0.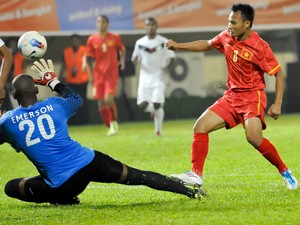 Vietnam midfielder Nguyen Trong Hoang (R) fires pass Timor Leste goalkeeper Emerson in the 52nd minute at Lebak Bulus in Indonesia's Jakarta Nov. 9, 2011 (Photo: Duong Phuong)
Both the group leaders got seven points each after three matches but Myanmar were first thanks to goal difference.

Vietnam's two goals came from midfielder Nguyen Trong Hoang in the 52nd minute and defender Au Van Hoan in the 64th minute.

More than 20 minutes into the match, Timor Leste's key striker Almeida was sent off with a red card after he beat Vietnam defender Chu Ngoc Anh.

From that moment on, the Vietnam side dominated the game but Vietnamese fans had to wait until the second half to see the opening goal.

"Timor Leste is a strong team and they made full use of their physical advantage. They had also two of their previous matches which meant that they are well prepared for us," Vietnam coach Falko Goetz was quoted by the Asean Football Federation website as saying at the post match press conference.

"But the win was important as it has injected more confidence in our players and also rejuvenated the team for the remainder of the campaign," he added.

Timor Leste had defeated Brunei and the Philippines before they took on Vietnam. Meanwhile, Myanmar beat Laos 3-2 in their first game, drew Vietnam 0-0 next and defeated Brunei Wednesday.

Timor now slipped down to third in Group B.

Vietnam will take on Brunei on November 12 before finishing their group campaign against Laos on Nov. 17.

The under-23 teams of the 11 Southeast Asian countries are competing in this year's SEA Games.

Defending champions Malaysia defeated regional powerhouse Thailand 2-1 Wednesday in Group A. Singapore also beat Cambodia with that score.

Both Malaysia and Singapore got four points each with the same goal performance – they drew 0-0 in their opener.