BUENOS AIRES, Aug 4, 2010 (AFP) - Diego Maradona, sacked as coach of Argentina only last week, is in the frame to succeed himself, it emerged here on Wednesday in the latest twist in the saga involving the footballing icon.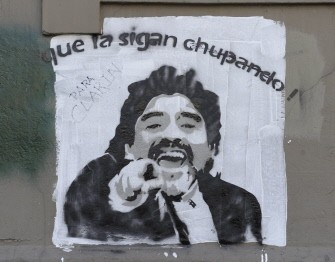 View of a graffiti depicting former Argentina's national football team coach Diego Maradona in a wall in Mendoza, Argentina on July 31, 2010. AFP PHOTO
According to Ernesto Cherquis Bialo, Argentina Football Association (AFA) spokesman, Maradona's name is among the list of candidates to fill the vacant coaching position.
"Diego has never gone away and he is still arriving," Bialo told radio station Ten, paraphrasing the lyrics of a famous tango dance.
Bialo said that the identity of the new manager would be revealed in October.
He added: "Nobody's name is forbidden, nor the support for anyone assured."
The possibility of Maradona being reappointed to the job he held for 18 months comes as an unexpected development following his dismissal in the wake of Argentina's 4-0 defeat to Germany in the World Cup quarter-finals.
His sacking prompted a backlash of bitter recriminations from the 1986 World Cup winner who claimed that he had been "lied" to by AFA president Julio Grondona and "betrayed" by team manager Carlos Bilardo.
He blamed the pair for plotting his downfall, claiming that they had gone back on their word after telling him his job was safe after the Germany rout in South Africa.
"Grondona lied to me. Bilardo betrayed me," Maradona claimed after his colourful and controversial reign as Argentina coach came to an abrupt end.
Bilardo dismissed the accusations.
"I am sure it's not him who is guilty, but his entourage. I defended and I will continue to defend Maradona to the death," said Bilardo last week.
Bilardo was the first to raise the prospect of Maradona's return, saying on Sunday: "Anything can happen."
Argentina captain Javier Mascherano will hold talks about the vacant coach's position with Grondona in Dublin on Monday before the friendly international between Argentina and the Republic of Ireland.
On Tuesday Mascherano voiced his support for the fallen coach.
"I only have words of thanks for him," said the Liverpool star.
Maradona became the shortest-serving manager of Argentina when he was shown the door after just 18 months in charge for refusing to replace some of his backroom staff.
Maradona received support from the highest level with Argentina President Cristina Kirchner expressing her sadness at his sacking and saying the star did not deserve his treatment.
Kirchner personally phoned Maradona after his press conference last Wednesday during which he lashed out at Grondona and Bilardo.
"I'm very saddened by his departure. I thought he was very dignified with the team," said Kirchner. "He always defended the colours of his country with a lot of heart."
Maradona, who took charge in October 2008, has been replaced on a caretaker basis by under-20 coach Sergio Batista who will lead the team for the August 11 friendly against Ireland.