MOSCOW, May 17, 2010 (AFP) - Russia on Monday named Dutchman Dick Advocaat as its new football coach, handing him the mission of overcoming the bitter disappointment of failing to reach the World Cup finals.
Advocaat replaces fellow Dutchman Guus Hiddink, who became a national hero in Russia for the team's stellar performance in the 2008 European Championships but then could not guide the team towards the South Africa World Cup.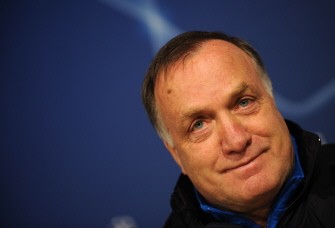 Picture taken on December 9, 2008 shows Dutch football trainer Dick Advocaat smiling during a press conference (AFP file)
"Dick Advocaat will be appointed as the head coach of the Russian national side," the federation head Sergei Fursenko said in comments broadcast on state television.
"He is flying to Moscow and on Tuesday will present his proposals for working with the Russian football team," Fursenko said at a news conference in the southern city of Rostov-on-Don.
Ex-Rangers coach Advocaat is already well known to Russia's demanding football public, having coached Saint Petersburg team Zenit for four years and to a famous victory in the UEFA Cup in 2008.
At Zenit, he became affectionately known in Saint Petersburg and throughout Russia as the "Malenki General" -- the Small General.
Helped with funding from Russia's state owned gas giant Gazprom, Advocaat transformed Zenit from perennial underachievers into champions. At the club, he oversaw the early careers of stars like Arsenal midfielder Andrei Arshavin.
"Dick Advocaat is great, firstly because he is a hard worker," said Fursenko.
"And secondly, he knows Russian football very well. He knows every player, even in detail, and there will be no need to explain things to him."
Advocaat left the club in 2009 after Arshavin was sold to Arsenal and Zenit suffered a slump in form, becoming head coach of the Belgian national team.
He was famously moved to tears by the Petersburg faithful's response to his departure from the city, when hundreds of fans wearing Dutch orange thronged the airport and unfurled a banner in Dutch reading "Dank U General!"
Financial details of the Russia deal were not disclosed but Fursenko said that Advocaat would earn less than Hiddink. A contract has already been signed with Advocaat for four years and will take effect from July.
According to Russian media, Hiddink took home a colossal annual salary of seven million euros, the highest in the history of Russian football. He was also criticised in the media for spending too little time in the country.
"The Little General will earn less than Hiddink but work more," the popular Komsomolskaya Pravda newspaper said on its website.
Fursenko admitted that after the high of Euro 2008 -- where Russia reached the semi finals -- the Russian football system was in need of fresh blood.
"We need footballers who are motivated and focused from a young age on achieving the best result," he said, adding that Russia needed to find an "ideology of victory".
Fursenko set Advocaat the task of reaching the finals of Euro 2012 -- to be held in neighbouring Ukraine and Poland -- and the 2014 World Cup. "And to show the maximum results in these tournaments."
To reach the Euro 2012 finals, Advocaat will need to shepherd his team through a tricky group that includes Slovakia and the Republic of Ireland.
Russia's poor performance at the last Winter Olympics was a major blow to a nation used to sporting success and prompted expressions of disappointment from the Kremlin and strongman leader Vladimir Putin.
"We remember well the work that Advocaat did with Zenit. He is well acquainted with the possibilities of Russian football," former Soviet national team coach Anatoly Byshovets told the Sportbox website.
"I do not think our team will have a problem making it to Euro 2012."