LONDON, March 1, 2010 (AFP) - Wayne Rooney insists his League Cup final winner against Aston Villa proves he can cope with the pressure of spearheading Manchester United's treble bid.
Rooney found himself in the unusual position of being a spectator at the start of Sunday's clash at Wembley after United manager Sir Alex Ferguson opted to rest the England forward to allow him time to recover from a stomach bug and a knee injury.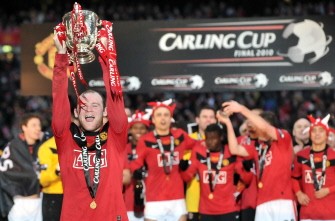 Wayne Rooney (Foreground) celebrates with the trophy after his team beat Aston Villa 2-1 to win the 2010 Carling Cup Final at Wembley on February 28, 2010. AFP PHOTO
The 24-year-old admitted he was disappointed to have been left out, but not even injury or illness can hold back such a ferocious competitor as Rooney for long.
When Michael Owen pulled up with a hamstring injury late in the first half, Rooney entered the fray and gave a vibrant display capped by the 74th minute header that ensured United would win the trophy for the third time in five years.
It was his 28th goal of the season and just the latest in a long line of match-winning displays as United come to rely on the forward more and more.
And, with the League Cup safely back in the Old Trafford trophy room, Rooney and company now turn their attention to retaining the Premier League title and avenging last season's Champions League final defeat.
Every game from here to the end of the season will be vital but Rooney has no doubts he can cope with the strain of leading United down the home straight.
"I don't feel any burden to do well. To be honest, I've probably had a lot of pressure since I was 16," Rooney said.
"It's something you get used to and try to deal with in your own way. It's not something I'm concerned about.
"Burnout doesn't worry me. I had a good rest here, so hopefully I will play the next few games."
After spending much of last season playing out on the left wing to allow Cristiano Ronaldo free rein to roam in central areas, Rooney has been restored to the forward line following the Portuguese star's move to Real Madrid.
Not only has he enjoyed a more prolific season as a result, but he has also added aerial prowess to his arsenal and his last five goals have all been headers.
"It's down to good wing-play," he said. "The deliveries have been a lot better this season and I've managed to get myself in the box in good positions," Rooney said.
"But I haven't set myself a goal target. Cristiano got 42 goals in a season but I want to contribute to us winning medals."
As if scoring the winner in a Wembley final wasn't reason enough to break out the champagne, Rooney could also afford a smile at Chelsea's defeat to Manchester City on Saturday.
United are now just one point behind the Premier League leaders, with Arsenal a further two points adrift, setting up the prospect of a dramatic end to the season.
"We are still in a good position in the Premier League, especially after Chelsea lost on Saturday and we are still in the Champions League so hopefully we can progess in that as well," Rooney said.
"It's really tight. Any one of the three teams could still win the league. I suppose for the neutral it's a great league to follow. As a player we know we have to be consistent over our last 10 games."
Rooney had little time to celebrate United's triumph as he headed off to England's training base for tests on his knee before Wednesday's friendly with Egypt at Wembley.
He may not be fit to feature in the game, but he has no intention of dwelling on the recent scandal caused by John Terry's affair with the former partner of England team-mate Wayne Bridge.
"We will concentrate on the football and nothing else," Rooney said. "It's no different to me and I'm sure for a lot of the other players."