LONDON, Sep 11 (AFP) – Wayne Rooney will face the most hostile reception of his career when the under-fire Manchester United striker makes his latest return to Everton on Saturday.
It is safe to say a trip to his native Merseyside is the last thing Rooney needs after newspaper allegations that he paid two prostitutes for sex while his Liverpool-born wife Coleen was pregnant with the couple's first child.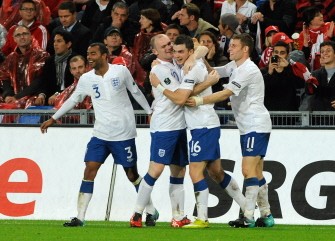 (From L) England's Ashley Cole, Wayne Rooney, Adam Johnson and James Milner celebrate after scoring the second goal during their Euro 2012 qualification football match Switzerland vs England at St-Jakob stadium in Basel on September 7, 2010. AFP
Reports that Coleen has refused to listen to Rooney's side of the story have been seen as a sign he faces a fight to save his marriage, but he didn't seem fazed as he scored for England against Switzerland on Tuesday.
It may have helped that Rooney suffered little or no negative reaction from a sedate crowd in Basel. However, a far more vitriolic atmosphere lies in wait at Goodison Park.
If United boss Sir Alex Ferguson decides Rooney is in the right frame of mind to start, he will be exposing the former Everton star to 90 minutes of constant abuse from fans still bitter over their former idol's move to Old Trafford in 2004.
Banners reading "Once a blue, now a red, in our hearts you are dead" greeted Rooney on previous visits to Goodison, but that will be mild compared to the reception this time, according to Everton defender Phil Jagielka.
"He normally gets quite a bit of stick and I can't see that changing on Saturday," Jagielka said.
"It should be amusing but I hope no one crosses the line because we are all human beings. Sometimes football takes over and you never know what is going to happen."
While Rooney and United steel themselves to face Everton, champions Chelsea will expect to extend their perfect start to the season when they travel to West Ham, who sit bottom of the table after three successive defeats.
Carlo Ancelotti's side sit top of the table after three victories, including two 6-0 routs of West Brom and Wigan.
Yet Ancelotti, who plans a long stay at Stamford Bridge, still wants more from his players and he said: "In football there are a lot of things, a lot of details that you can always improve. Every experience can give you the possibility to improve.
"My desire is to be here for 25 years. I don't know if it's possible, but I hope to stay for a long time."
Arsenal's hopes of keeping pace with Chelsea suffered a double blow over the last seven days when Robin van Persie and Theo Walcott were both sidelined for several weeks with ankle injuries.
Losing two match-winners of that quality will heap pressure on captain Cesc Fabregas to recapture the magnificent form he showed for much of last season, starting against Bolton at the Emirates Stadium this weekend.
Arsenal's north London rivals Tottenham were also hit by injury problems during the international break as England duo Jermain Defoe and Michael Dawson were ruled out for up to two months each.
With Defoe out, Peter Crouch will return from a back injury when Harry Redknapp's team travel to West Brom, while Dutch midfielder Rafael van der Vaart could be on the Tottenham bench after his move from Real Madrid.
Six of Manchester City's players starred in England's two Euro 2012 qualifying wins and winger James Milner hopes the feel-good factor will carry over to Eastlands when Roberto Mancini's side face Blackburn.
"Most teams who win the title have an English core, so it can only be good for us," Milner said.
Gerard Houllier will take charge of his first Aston Villa match on Monday when the former Liverpool and Lyon manager's new team travel to Stoke.
It promises to be a demanding opener for Houllier, but Stoke boss Tony Pulis believes his counterpart has inherited a fine squad that should flourish in the long-run.
"I think he is walking into a football club which has top players and he has been very fortunate to get a great club," Pulis said.
Fixtures (1400GMT unless stated):
Saturday
Arsenal v Bolton, Everton v Man Utd (1145GMT), Fulham v Wolves, Man City v Blackburn, Newcastle v Blackpool, West Brom v Tottenham, West Ham v Chelsea, Wigan v Sunderland
Sunday
Birmingham v Liverpool (1500GMT)
Monday
Stoke v Aston Villa (1900GMT)