Brazil's Olympic under coach Carlos Dunga, who are seeking the first Olympic football gold medal for their country, arrived in Ha Noi on the Tuesday evening for a friendly with the Viet Nam squad on August 1.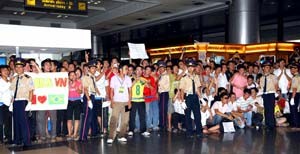 Vietnamese fans wait for Brazil's Olympic squad at Noi Bai Airport (Photo: SGGP)
More than 1,000 local fans awaited at the Noi Bai Airport with support banners to welcome Dunga and his 18 players, including two-time FIFA player of the year Ronaldinho and such stars as Manchester United midfielder Anderson, Liverpool midfielder Lucas, AC Milan striker Pato, Manchester City forward Jo, and Werder Bremen player Diego.
Viet Nam Football Federation vice chairman Le Hung Dung flew with the samba kings from Singapore, where they beat the Singapore national squad 3-0 in a friendly match Monday.
From Ha Noi's Noi Bai Airport, AC Milan star Ronaldinho and his teammates went directly to the Sheraton Hotel, where they are staying during their time in football-crazy Viet Nam. No fans could get a signature from the Brazilians at the airport.
Coach Dunga and his 18-strong squad will take two training sessions at 4:30 pm Wednesday and Thursday at the My Dinh National Stadium, where they will play Viet Nam at 8 pm on Friday. Their Ha Noi match is part of their preparations for the Beijing Olympics. Brazil have won the World Cup a record five times, but have yet to win the Olympic competition, where teams are allowed only three players older than 23.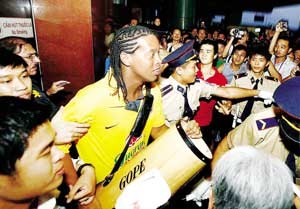 Two-time FIFA player of the year Ronaldinho (in yellow) in the middle of the crowd at Noi Bai Airport (Photo: SGGP)
Led by Ronaldinho, Brazil's Olympic preparations were off to a smooth start as the yellow-blue players kings defeated Singapore with three goals coming from Diego, Ronaldinho, and Jo.
After the Ha Noi match, Dunga and his players will fly to Beijing. Their first game is against Belgium on August 7. They then take on New Zealand on the 10th and host nation China on the 13th in Group C. The tournament runs from August 8 to 24.
The Ha Noi game has created a football fever in Vietnam as it is considered a dream match. So many local fans want a ticket for a place among about 40,000 seats in the My Dinh National Stadium.
Brazil's Olympic squad:
Diego Alves (Almería), Renan (Internacional), Alex Silva (São Paulo), Breno (Bayern de Munique), Thiago Silva (Fluminense), IIsinho (Shakhtar Donetsk), Rafinha (Schalke 04), Marcelo (Real Madrid), Anderson (Manchester United), Diego (Werder Bremen), Hernanes (São Paulo), Lucas (Liverpool), Ronaldinho (Milan), Thiago Neves (Fluminense), Alexandre Pato (Milan), Jo (Manchester City), Rafael Sobis (Real Bétis), Ramires (Cruzeiro EC)