ROME, Sept 25, 2010 (AFP) - AS Roma claimed their first win of the season in dramatic fashion when Mirko Vucinic's stunning stoppage-time header gave them a 1-0 home win over champions Inter Milan on Saturday.
Montenegro forward Vucinic, who came off the bench late in the match to replace Francesco Totti, dived to turn in Daniele De Rossi's cross from the right and put an abrupt halt to Inter's strong start.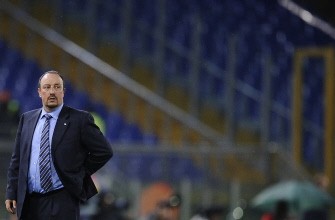 Inter Milan's coach Rafael Benitez reacts during their Serie A football match against AS Roma in Rome's Olympic Stadium on September 25 , 2010. AFP
European and Italian champions Inter remain top with 10 points from five games, although Brescia and Chievo can both overtake them if they win their respective matches at Bari and at home to Lazio on Sunday.
"Roma have taken a good dose of medicine because beating Inter is always good for you," said Roma coach Claudio Ranieri.
"It's a victory for us staying united right to the very end. The lads are the first to suffer when they aren't doing well and they can't see why."
Inter coach Rafael Benitez said: "The problem isn't that we conceded late on, but that we didn't score with any of the 15 shots we had on goal.
"Now we have to analyse why we didn't score and why we are sometimes weak in defence".
AC Milan are two points off the pace in fourth thanks to Zlatan Ibrahimovic, who settled their San Siro clash against Genoa with a delightful 49th-minute chip.
It followed his first league goal for the Italian side since his move from Barcelona in Wednesday's 1-1 draw at Lazio.
Last-year's runners-up Roma now have five points thanks to Vucinic and can boast a new solidity in defence with Argentine centre-back Nicolas Burdisso returning from a two-match suspension.
The champions were full of confidence after thrashing Bari 4-0 Wednesday, while Roma were fuming at the poor refereeing that contributed to their 2-1 defeat at Brescia.
The hosts had a penalty appeal turned down in the 19th minute when Lucio caught Marco Borriello's face with a high clearance and Inter's Dejan Stankovic hit the crossbar with a long-distance effort.
At the San Siro, Robinho was in Milan's starting lineup for the first time since arriving from Manchester City and he and Ibrahimovic and Ronaldinho tried to make things happen.
The hosts almost went behind in the 39th minute when keeper Christian Abbiati diverted a Rodrigo Palacio cross onto his own far post.
The deadlock was shattered soon after the break when Ibrahimovic resisted the attention of two markers to get his toe to Andrea Pirlo's pass from deep, with Portugal keeper Eduardo unable to save.
Ronaldinho almost made it 2-0 on the hour with a strike that sailed just over the bar and Robinho had a shot cleared away by Domenico Criscito with Eduardo beaten.
Mathieu Flamini squandered two good opportunities in the closing stages.
"This win counts for a lot because it's important to be in good shape psychologically," said Milan coach Massimiliano Allegri.
"When the results don't come, you always worry, even if you're a great team."
This weekend's Serie A action is taking place after Italian professional footballers union AIC postponed a strike called over a contract wrangle.
Juventus, who have so far shown few signs of improving on last season's miserable campaign despite an array of signings and the arrival of new coach Luigi Del Neri, take on Cagliari on Sunday.