WASHINGTON (AFP) – US second seed Andy Roddick was eliminated by France's Gilles Simon while Czech top seed and Wimbledon runner-up Tomas Berdych struggled into the ATP Washington Classic quarter-finals on Thursday.
Simon, sidelined nearly three months by a right knee injury, ousted Roddick 6-3, 6-3 from the US Open tuneup event in 69 minutes, winning 21-of-23 points on his first serve and 14-of-21 off the second serves of 10th-ranked Roddick.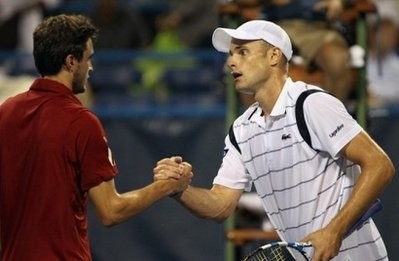 Andy Roddick (R) shakes hands with Gilles Simon of France after their quater-final match at the ATP Washington Classic. AFP
"He was not able to hit winners against me because the court was slow," Simon said. "The difference was I managed to return his serves. Playing more points from the baseline, I felt a lot more confident."
Roddick said he not felt his full energy for the past few weeks and wants some tests to see if a health problem is at the root of his troubles, which he said could lead to pulling out of upcoming Toronto or Cincinnati events.
"I promise you I'm going to figure this out," Roddick said. "This is not what I built my reputation on."
Berdych, who eliminated Roger Federer at Wimbledon and Andy Murray at Roland Garros on his way to the French Open semi-finals, outlasted Kazakhstan's Andrey Golubev 6-3, 5-7, 7-5, in a rematch of their first-round match at Wimbledon.
"I'm not playing my best tennis yet," Berdych said. "If I play my best tennis here, what can I bring the next couple weeks?
"Everything I'm trying to do is get 100 percent ready for the US Open - get rhythm back, win a couple matches and hit full throttle in New York."
Spanish third seed Fernando Verdasco and former world number three David Nalbandian of Argentina also reached the last eight at the 1.4 million-dollar hardcourt tournament after rain delayed the start by more than four hours.
Ninth-ranked Berdych, a top seed for the first time after losing to Rafael Nadal last month in his first Grand Slam final, will next face 62nd-ranked Belgian Xavier Malisse, who beat US fifth seed John Isner 6-4, 3-6, 7-6 (7/5).
"The pressure is on him. He's the top seed," Malisse said. "He's having a great season. I have nothing to lose. I'll go out and see what happens."
Golubev, ranked 37th after his first ATP title last month in Hamburg, gave up a break in the penultimate game of the match when a forehand nicked the net cord and went long and Berdych held to advance after two hours and 20 minutes.
"He has really improved in a few weeks," Berdych said. "He's starting to play well and hardcourt is his best surface.
"I'm going to try to raise my game a little higher."
Nalbandian, a 2002 Wimbledon runner-up in his first ATP event since April due to a left hamstring injury, ripped Swiss Marco Chiudinelli 6-1, 6-0.
Verdasco defeated US qualifier Ryan Sweeting 6-4, 7-5 to book a date with Cypriot eighth seed Marcos Baghdatis, who beat Ukraine's Illya Marchenko 6-3, 6-7 (5/7), 6-3.
"I was better," Verdasco said. "That's the most important thing for me, feeling better every day."
Isner fired 18 aces but botched a smash on the penultimate point - hitting it onto the court on his side of the net - and lost a Washington third-set tie-breaker for the first time in eight tries at on a Malisse service winner.
"As soon as he hit it I looked up in the lights and I didn't see it that well and it didn't bounce as high as I thought it would," Isner said.
"In hindsight, hitting the overhead was the worst possible play. It was a stupid, stupid play."
Malisse, who won their only prior meeting on clay in April at Houston when every set went to a tie-breaker, agreed.
"I think it was a little too low for him to hit the overhead," Malisse said. "When he is serving so well, you take what you can get. One point difference. To get that point meant a lot."