BERLIN, March 13, 2010 (AFP) - Bayern Munich suffered a Champions League hangover Saturday before Dutch winger Arjen Robben scored twice to seal a 2-1 win over strugglers Freiburg to put the hosts back on top of the Bundesliga.
After Tuesday's away goals victory over Fiorentina, which saw them make the Champions League's quarter-finals, Bayern were brought back down to earth by second-from-bottom Freiburg before Robben hit two second-half goals.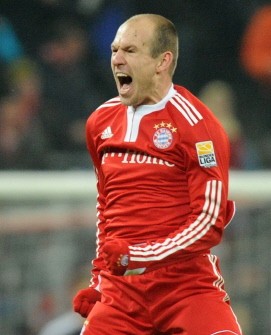 Arjen Robben celebrates scoring during the Bundesliga football match FC Bayern Munich vs SC Freiburg on March 13, 2010 in Munich. AFP PHOTO
"Freiburg were very organised in the first-half, which made things very hard for us," said Bayern coach Louis van Gaal.
"We changed things in the second-half and were dominant.
"The victory is very nice, but we got off the hook, so we can only be reasonably happy."
Bayern went behind when Freiburg striker Cedrick Makiadi rifled in a 20-metre shot at Munich's Allianz Arena which gave the home side's goalkeeper Hans-Joerg Butt no chance on 31 minutes.
The hosts looked lethargic before Dutch international Robben scored his ninth league goal of the season, and his second in two games having scored Bayern's crucial second in Italy, when he drilled home a free-kick on 76 minutes.
And he then completed Munich's fightback when he converted an 83rd-minute penalty after Germany rising star Thomas Mueller was fouled in the area.
The result puts Bayern top of the league and two points clear of second-placed Schalke 04.
Earlier rock-bottom Bundesliga side Hertha Berlin slipped closer to relegation after suffering a 2-1 home defeat to fellow strugglers Nuremberg who grabbed an injury-time winner.
Berlin, who remain five points adrift, had taken the lead when their Greece striker Theofanis Gekas scored only his third goal of the season just before half-time before Nuremberg hit back with two second-half goals.
Nuremberg, who shocked title-contenders Bayer Leverkusen 3-2 last Sunday, drew level when Swiss striker Albert Bunjaku netted with a header on 61 minutes before Greek striker Angelos Charisteas scored the winner in stoppage time.
Their second straight wins lifts Nuremberg up to 15th in the table and out of the relegation zone.
Police made 30 arrests and four officers were injured after 100 Hertha fans rampaged through Berlin's Olympic Stadium and damaged the home side's bench after the final whistle.
Dortmund moved up to fourth and picked up their second straight win with a 4-1 victory at Bochum.
Argentina striker Lucas Barrios landed the hammer blow for Dortmund when he scored twice in three minutes midway through the second-half.
Wolfsburg picked up their fourth-straight league win under caretaker manager Lorenz-Guenther Koestner when they hammered Moenchengladbach 4-0 to go eighth.
Hanover picked up their second consecutive win under new coach Mirko Slomka with a 2-1 win over Eintracht Frankfurt to go 16th.
Third-placed Bayer Leverkusen need to beat Hamburg on Sunday to get their title hopes back on track after last weekend's shock loss to Nuremberg while Bremen are at Hoffenheim.
On Friday, former German international striker Kevin Kuranyi grabbed a 55th-minute winner to temporarily put Schalke top of the league, sealing a 2-1 win against Stuttgart.
It was Schalke's third successive win and their eighth at home this season while Kuranyi's timely strike was his 14th of the campaign.
Schalke, coached by Felix Magath, are trying to win a first league title since 1958 while Stuttgart suffered only their second defeat since former Tottenham boss Christian Gross took over in December.