RIO DE JANEIRO, July 28, 2011 (AFP) - The draw for the 20th World Cup will be made in Rio on Saturday as the tournament prepares to return to Brazil for the first time in 64 years.
Brazil will join France, Germany, Italy and Mexico in hosting the event twice while the tournament will be the second in succession to be held in the southern hemisphere after South Africa 2010.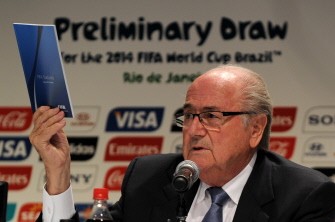 AFP - FIFA President Joseph Blatter speaks during a press conference in the framework of 2014 FIFA World Cup Preliminary Draw at Marina da Gloria in Rio de Janeiro, on July 27, 2011.
The last time South America hosted the show was Argentina 1978, since when Brazil have added two crowns to take their haul to a record five, Italy have added a pair to lift their tally to four and Germany have recorded a third.
France and Spain have also both joined the winners club.
France have since slid down the world rankings and will be the only former winner not to be seeded in the draw, set to be attended by 38 coaches, including Spain's Vicent del Bosque.
After initial interest from Argentina and Colombia, South American countries rallied around a Brazilian candidature from their CONMEBOL confederation.
But since the award of the event in 2007, questions have been asked -- as was the case with South Africa -- as to whether the huge country of 190 million will have its venues all shipshape and security in place in time for the big kickoff on June 12, 2014.
For now, Brazil, qualified by dint of staging the event, have three years to finalise their plans which include a multi-million dollar revamp of the mythical Maracana Stadium in downtown Rio.
Everyone else must get down to actually earning one of the 32 berths up for grabs.
FIFA general secretary Jerome Valcke confirmed the dates Wednesday, but said it is still not clear where the first game will take place.
"The World Cup in 2014 will start on June 12 and finish on July 13. I know everyone wants to know the city that will host the opening game of the tournament, but that will be decided in October," he said.
In South America itself, the formula is simple - everyone plays each other in an 18-game programme with four guaranteed places available - as well as Brazil - plus one via the playoffs held at the end of the two-year process.
Elsewhere, most notably in Europe, the process has to be broken down into smaller groups whose composition will be revealed Saturday at the Marina da Gloria complex.
Europe, which will have nine seeds, will be awarded 13 places with 53 teams competing for them in the qualifiers.
Nine group winners go through as do the winners of four playoffs between the best eight runners-up.
Asia has 43 teams scrapping for 4 or 5 berths, the last one decided through a playoff and Africa will have five berths available for 52 teams from a continent yet to land the ultimate prize.
A total of 35 North, Central American and Caribbean (CONCACAF) teams will fight for three guaranteed plus one play-off berth, while Oceania's best finisher from 11 countries will get a place only via a play-off.
Come the actual finals, 12 cities from an original pool of 17 applicants will host matches.
The World Cup final may yet be in the Maracana though the hosts had initially slated Sao Paulo's Estadio do Morumbi for the honour. Then last year it was dropped amid worries over financial guarantees for stadium improvements.
Security remains an issue but it is the state of the 12 venues which is posing a headache with several behind schedule on construction or renovation, and/or over budget.
A mooted new venue in Natal in the north east has yet to see the light of day and another in Minas Gerais state in the south east is behind schedule owing to worker protests.
"If work goes on at its current rate, when we have the Confederations Cup a year before the World Cup, there won't be matches in Rio and Sao Paulo - the World Cup venues won't be ready," FIFA president Sepp Blatter fretted in March.
Organisers in Rio say they believe that the Maracana will be ready in time, but only after renovations costing some 625 million dollars.
A further logistical issue is an airport system already running at capacity. A further influx of some 2.5 million football fans means a huge upgrade of the whole system.