NYON, Switzerland, May 5, 2010 (AFP) - Bayern Munich's French international playmaker Franck Ribery lost his appeal to UEFA against a three match ban, European football's governing body said after a hearing here.
Ribery is set to miss the Champions League final against Inter Milan on May 22 after the ban was imposed when he was sent off for a foul in the semi-final first leg clash with Lyon.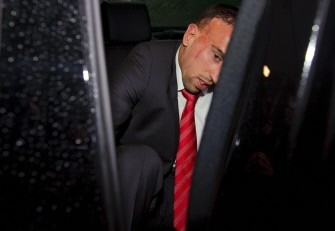 Franck Ribery leaves in a car after losing his appeal against a three match European ban on May 5, 2010 at the UEFA headquarters in Nyon. AFP photo
"The appeals body has fully upheld the initial decision made by the body of first instance, the UEFA control and disciplinary body, and has confirmed the three match suspension of Franck Ribery in UEFA club competitions," said UEFA spokesman Robert Faulkner.
"Having served one match, the semi-final second leg game between Olympique Lyonnais and Bayern Munich on 27 April, the player will now miss the UEFA Champions League final on 22 May and the next UEFA club competition match for which he is eligible," he added.
However, Faulkner said Ribery could lodge an appeal against the latest ruling at the Court of Arbitration for Sport (CAS) in Lausanne.
Bayern chairman Karl-Heinz Rummenigge claimed UEFA's decision was too harsh and said the club intended to appeal to CAS, possibly next week.
"We think that this is far too harsh a decision," he told journalists in Nyon.
"We're not happy with the decision here."
Bayern argued that Ribery had committed "foul play or a gross foul" and did not merit the three match suspension invoked for a serious offence. UEFA officials believe his tackle on Lyon striker Lisandro Lopez was dangerous.
"The court unfortunately did not follow our argument. It in principle upheld the decision in the first instance, that is a three game ban," said Rummenigge.
A stony-faced Ribery - who has experienced a difficult few weeks as he has also been linked to an underage prostitute in France - did not comment as he emerged from the basement meeting room at UEFA's lakeside headquarters.
"He is of course disappointed and very sad, but as we said... we will appeal," Rummenigge explained.
The French player was shown a straight red card for treading on Lopez's foot in the first-leg semi-final against Lyon last Wednesday, which Bayern won 1-0 in Munich.
He then missed last week's 3-0 second-leg win while serving the first part of his ban.