LONDON, May 5, 2010 (AFP) - Harry Redknapp has accused Manchester City of using their financial muscle to intimidate rival clubs in the transfer market.
The Tottenham boss claims he was forced to drop a January 2009 attempt to sign Craig Bellamy from West Ham after City made it clear they would sabotage his bid for Wilson Palacios if he did not give way in the battle to secure the striker's services.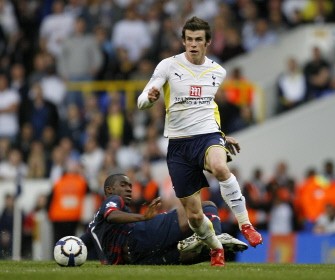 Tottenham's Gareth Bale (R) evades the challenge from Bolton Wanderers' English midfielder Fabrice Muamba (L) during the English Premier League football match between Tottenham Hotspur and Bolton Wanderers at White Hart Lane in London, England on May 1, 2010. AFP PHOTO
"They came in and said: 'If you don't drop out of Bellamy, we're going to sign Palacios. We're interested in Palacios. But if you pull out of Bellamy, we'll pull out of Palacios and then we both get a player.'
"So we had no choice really. They just said 'We'll blow you out of the water'. They've got the backing, they've got the clout to do that, they can do it if they want somebody."
Redknapp's comments raised the stakes a notch higher for Wednesday's evening's meeting of the two clubs at Eastlands which could decide which of them secures a coveted place in the top four of the Premier League and a ticket to next season's Champions League.
Tottenham went into the match one point ahead of City and knowing a win would guarantee them a top four finish before Sunday's final round of matches.
Redknapp however has insisted that this season will be regarded as a success whatever the outcome.
"If we can get in the Champions League next year, it would be great for us," he said. "But if I start thinking about 'Oh I am going to make it' and then you don't make it, you will commit suicide in this game.
"You can't get ahead of yourself. I can't get too up before it happens. Or too low if it does not happen. We have a tough game and need to try and get a result there.
"No one is walking around here thinking 'Cor, we can get in the Champions League' - it has never been mentioned. I have not even spoken to the players about it. We will look at some video of Man City and do our best to win the game."