TOKYO, May 31, 2010 (AFP) - When Fabio Capello declared it would be a "failure" if England do not reach the World Cup final, it was something expected of the straight-talking coach whose record deserves bragging rights.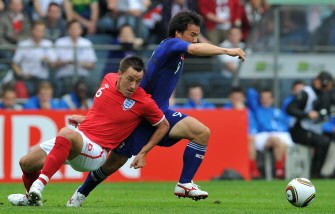 John Terry (L) of England and Shinji Okazaki of Japan fight for the ball during a friendly international football match in Graz on 30 May, 2010. England won 2-1. AFP photo
But the football world only scratched its head when Takeshi Okada repeatedly insisted that Japan could make the semi-finals in South Africa.
The home-grown manager's target has even confused his players and angered supporters as a "bad joke" as the Blue Samurai struggled against rank outsiders in recent internationals amid persistent calls for his resignation.
Has Okada, who piloted Japan to a winless World Cup debut at France 1998 in his first stint as national coach, lost touch with reality?
The bespectacled 53-year-old, who has often mixed his pep talk with lectures on religion, philosophy and history, must have reasons to be bullish.
He has been inspired by his long-time association with Zen master Daito Noda, who runs a commune for meditation on a rural island.
"Manager Okada is a seeker. He may remember something from various stories I have told him over drinks," Noda told AFP.
The 64-year-old priest once told Okada about an ancient martial art technique in which a combatant aims his hand at the backbone -- rather than the chest -- of his opponent in a frontal strike, resulting in greater impact.
Thus the harder the target is, the bigger the result gets. But there has been a drawback.
"Okada's goal has become just a bad joke," popular football writer Tatsuhito Kaneko said in his column after Japan lost 3-0 to a second-string Serbia in a home warm-up match in April.
"It is like ordering the current national team to walk to the moon," he added. "What is needed is a handy and specific goal which can excite the fans and inspire the players to work a bit harder."
Japan, known for their solid midfield despite lack of firepower and size, are grouped with the Netherlands, Cameroon and Denmark whose world-rankings are all higher.
Former Japan coach Philippe Troussier told the daily Nikkan Gendai that 45th-ranked Japan would hardly get beyond the group stage "if they face the World Cup with the same feeling as they fight in Asia."
The French disciplinarian coached Japan to their best-ever World Cup result when they reached the last-16 in 2002 when they co-hosted the finals with South Korea.
But, in another interview with local media, Troussier commended Okada's attitude.
"The world is looking down on Japan," he said, adding Europe "lacks respect" for little-known Japan. "Manager Okada may be trying to demonstrate Japan's pride to the world."
Okada has explained that, when he took over from stroke-hit Bosnian Ivica Osim in late 2007, he urged his squad to "surprise the world" by emulating South Korea's advance to the 2002 World Cup semi-finals.
"I thought if I targeted the title the players wouldn't get serious. But if I targeted the last-eight round, they wouldn't get motivated."
But Japan's World Cup prospects have turned bleak after finishing third behind China and South Korea at the East Asian championships in January.
A poll by the Sankei Sports daily showed 86 percent demanded Okada's ouster and more than 80 percent predicted Japan won't win a match in South Africa.
Okada's Group E counterparts sounded more realistic as Bert van Marwijk hoped the Netherlands win every match and lift their first World Cup.
Denmark coach Morten Olsen has aimed for the last-16 while Cameroon coach Paul Le Guen is eying the quarter-finals as a "reasonable objective."
While rated by bookmakers at the bottom of the group, Japan badly need a breakthrough to join surprise semi-finalists in recent World Cups -- Bulgaria in 1994, Croatia in 1998, and South Korea and Turkey in 2002.