MADRID, March 21, 2010 (AFP) - Real Madrid secured their ninth straight victory after coming from behind to beat Sporting Gijon 3-1 on Saturday and open up a three-point gap on bitter rivals Barcelona at the top of La Liga.
The home side were the better team in the first half but lacked the killer touch in front of goal with Gonzalo Higuain missing two excellent chances.
After the break, Sporting went ahead against the run of play through David Barral, but the goal injected some much-needed urgency into Real.
Rafael Van der Vaart brought Real level, although replays suggested he controlled the ball with his hand, and then Xabi Alonso headed them into the lead.
Higuain got on the scoresheet to finish off the threat from Sporting.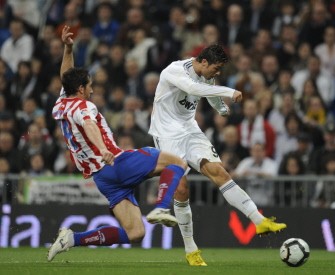 Real Madrid's Portuguese forward Cristiano Ronaldo (L) kicks a ball against Sporting Gijon's midfielder Diego Camacho during their Spanish League football match at Santiago Bernabeu stadium in Madrid on March 20, 2010. AFP PHOTO
"We had a bad start and it wasn't until the second half that we improved but we lacked the creativity to break down Sporting," said Real coach Manuel Pellegrini.
"You can't play all games well and while we scored three goals we can't be happy with the way we played.
"This was a game which gave us a warning as we have to start matches with a greater rhythm. Sporting defended very well and on the counter-attack were very dangerous."
Sporting coach Manolo Preciado refused to make a big issue of the possible handball by Van der Vaart.
"If there was (a handball) then that would have had some influence on the result. I'm not going to talk about the referee, they do what is possible and at times they can make mistakes," he said.
The onus is now on Barcelona who must beat Zaragoza on Sunday to remain level on points with Real.
The champions have not been playing at their best and it is largely thanks to Lionel Messi, who has scored eight of their last ten goals, that they are still locked in a tight tussle with Real.
Coach Pep Guardiola, though, has emphasised the importance of the team as a whole playing well from now until the end of the season.
"When I talk about the team I am not trying to downplay Messi at all. There is no doubt that Leo is very important to us because he is the best player in the world, and he is like Michael Jordan was to basketball," said the coach.
"The aim is that he is involved as much as possible in the game and that he gets the ball in dangerous areas as that is where he likes to be.
"He is the first to press and win balls and this is contagious for the rest of the players. We can do something special this year but we need to be all at our best."
Sevilla coach Manolo Jimenez's future was left hanging in the balance following his side's 2-0 defeat by Espanyol.
The Andalusian team have now gone four matches without victory in the league as well as crashing out of the Champions League against CSKA Moscow.
Espanyol went ahead through their first attack with Pablo Osvaldo heading home a Javi Marquez cross.
Sevilla then lost two important creative players in Jesus Navas and Diego Capel to injury.
Osvaldo finished off a well-worked move on the hour mark to double Espanyol's lead and there was no way back for Sevilla.
"I feel strong and I'm able to deal with this situation," said Sevilla coach Jimenez.
A surprise 2-0 defeat for Deportivo La Coruna against Valladolid allowed Athletic Bilbao, who drew 2-2 with Getafe, to move above them into a Europa League place.