MADRID, March 12, 2010 (AFP) - Spanish media on Friday accused Real Madrid striker Gonzalo Higuain of being too individualistic and Kaka of being out of form, two days after the Spain club were eliminated from the Champions League.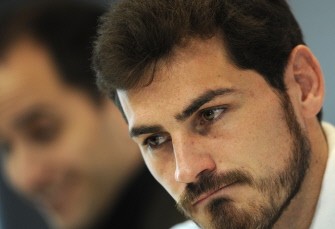 Real Madrid's goalkeeper Iker Casillas gestures during a press conference in Madrid, on March 11, 2010, a day after being defeated by Olympique Lyon during their UEFA Champions League football match. AFP photo
Higuain, who missed several opportunities to score during Real's 1-1 draw at home to Lyon which sent the French team through 2-1 on aggregate, angered teammate Cristiano Ronaldo by his refusal to pass, sports daily Marca reported.
The 22-year-old, the club's top scorer in the Spanish league with 16 goals who is renegotiating his contract, plays too "individualistically" as he competes with fellow striker Karim Benzema for a place in the team's starting line-up, it added.
Real midfielder Guti said after Wednesday's match that the squad needed to play "as a team" to win in what was seen as a criticism of Higuain and his failure to pass to Ronaldo.
Daily newspaper El Mundo meanwhile pointed the finger at Kaka, who was replaced by veteran striker Raul with 13 minutes to go until the end of the match.
The paper said the "soldier Kaka", who has largely failed to replicate the form that made him the world's best player during his time at AC Milan, needed to be "saved".
The 27-year-old had his season interrupted by five weeks out with a groin injury picked up before Christmas and has found goals hard to come by since joining Real from AC Milan for 65 million euros.
Kaka's spokesman Diogo Kotscho accused Real coach Manuel Pellegrini of being a "coward" and "trying to take the focus off [his] own incompetence" with his substitution of the Brazilian player in a message posted on his personal Twitter account.
This is the sixth consecutive season that Real have been eliminated from the Champions League at the last-16 stage.
The nine-time European champions have not won Europe's most-coveted trophy since 2002 when they beat Germany's Bayer Leverkusen 2-1 in Glasgow.