Ho Chi Minh City on March 27 had the honour to welcome the legendary Premier League Cup on its 19th champion trophy tour with Manchester United F.C., covering 27 countries.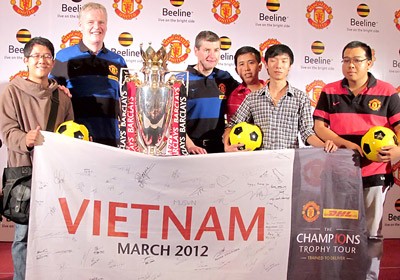 Gordon McQueen and Denis Irwin pose with Vietnamese fans alongside the Premier League Cup
The Cup was given permanently to this renowned football club in the season of 2010-2011, when it celebrated its title of most times Winner of the Premier League in English football history.

Former football players Gordon McQueen, 59-year-old midfielder from 1978-1985, who helped 'Red Devils' win the FA Cup in 1979, and Denis Irwin, 47-year-old defender from 1990-2002, famous for his triple victory in 1999 to win the C1 Cup, were representing Manchester United F.C. 

In a meeting with media and fan clubs, they narrated the glorious history of the football club and discussed some of its future plans, while also taking pictures with fans alongside the Premier League Cup.

Despite having to rush through four meetings in one day in different locales,   they were still enthusiastic when answering questions and joined in simple games with fans. "We really did not expect such a huge and excited fan club in Vietnam. You have made us feel so blessed!" said the footballers.

Sharing the good news of the 1-0 victory over Fullham the day before, and expanding the gap with Manchester City to 3 more points, the two representatives truly believed that even though Manchester City was quite impressive this season, with such strong and professional players, their club would win the Premier League Cup for the twentieth time.

Prior to Vietnam, the Cup had visited Thailand and India. On March 28, the Cup will continue its tour of other countries, to promote the image of Manchester United F.C.