TALLINN, Sept 4, 2010 (AFP) - Italy coach Cesare Prandelli praised his fledgling team and claimed they were on the right path following their 2-1 win against Estonia.
Italy were far from impressive in their Euro 2012 qualifying Group C opener but they did grind out the victory despite falling behind to Sergei Zenjov's surprise first half goal.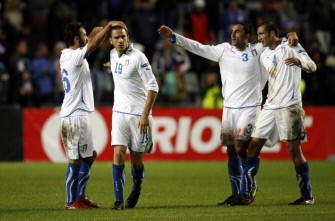 Italy's players celebrate after their match against Estonia on September 3, 2010 in Tallinn. AFP
Antonio Cassano and Leonardo Bonucci hit back after the break to give Italy their first win in eight matches and first of this calendar year.
Prandelli said that his players are slowly developing into a cohesive unit.
"Without a good footing you can't go very far but it was more than just (Andrea) Pirlo and Cassano that pleased me, we're becomming a team," he said.
Prandelli has made sweeping changes since taking over from Marcello Lippi following Italy's disastrous World Cup campaign in South Africa.
Only 10 of his squad travelled to Africa and he has already given six players their debut.
He knows that the team will take time to gel but even so he was dismayed with some of their defending.
"Frankly I thought the mistakes we made on dead balls and counter-attacks were absurd," he moaned.
That lack of concentration was most evident with Estonia's goal as goalkeeper Salvatore Sirigu spilled Konstantin Vassiljev's 35-yard free-kick and all but Mattia Cassani in the Italy defence stood ball-watching as Zenjov drove home the rebound.
"I thought someone's having a laugh," said Prandelli. "I wasn't afraid but I told the players in the changing room (at half-time) to ditch any negative thoughts because we were playing well in general.
"We've rediscovered the ability to play football with courage. These are three points but they're worth a lot more."
Prandelli reserved special praise for forward Antonio Cassano, scorer of the first and architect of their second with a cheeky backheel.
"He's an example for anyone who wants to play for the national team," Prandelli said of the Sampdoria forward whose last Italy goal was at Euro 2004 and who had not been part of a squad for two years before Prandelli took over.
"He fought to get back in the squad and this week he's shown how much the shirt means to him."
Midfielder Daniele De Rossi, who generally had a quiet game, described Cassano as the brightest player in the squad.
"Cassano is important, he's the most talented player. He made the difference and that's what we expect from someone like him," he said.
"I like playing with good players and there's many of them in the national team."
Bonucci said his goal was down to Cassano's invention.
From a Pirlo corner to the near post, Cassano let the ball run between his legs and backheeled it into the danger area where the unmarked Bonucci tapped in from three yards out.
"Cassano did really well to get the ball in the middle on my goal," said Bonucci.
"As for the rest, Antonio's a superstar and he can do these things."