ROME, Feb 13, 2011 (AFP) - AC Milan striker Antonio Cassano scored his first goal for the club in the 4-0 thrashing of Parma and then claimed that no-one would catch the Serie A leaders if they keep playing this way.
The former Real Madrid and Roma frontman had already provided several assists for his club prior to this game and produced two more against the overmatched visitors to the San Siro on Saturday.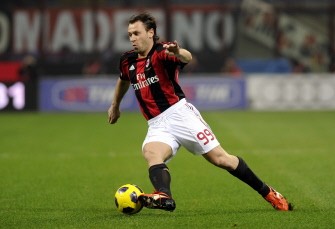 AC Milan's forward Antonio Cassano escapes with the ball against Parma during their Italian Serie A football match on February 12, 2011 in San Siro stadium in Milan. AFP
But for the first time he tasted the feeling of a goal in the red and black shirt of Milan after playing a one-two with Gennaro Gattuso and finishing competently with a first-time half volley.
He also teed up Robinho for a second half brace, although with the first he was actually trying to feed Zlatan Ibrahimovic, who missed his attempted shot.
And having played 90 minutes for the first timme since his move from Sampdoria, Cassano talked up his team's title chances.
"The most important thing was the victory for the team but the fans noticed that we were aggressive from the off and if we continue like this, no-one will catch us," he said.
"This week I played a great match both for Italy and for Milan. Here you always have to be at 100 percent because the aim is to win every time."
Cassano also explained why he seems calmer on the pitch since joining Milan from Samp.
"My team-mates make mistakes because they run a lot and I'm not the best when it comes to running," he said.
"So if they make a mistake I try to comfort them. Many are young players, they don't have the personality of Cassano, Ibrahimovic or Gattuso."
The 28-year-old is going to have to put his feet up in midweek as Milan host Tottenham in the Champions League.
Having already represented Sampdoria in the competition he is not eligible.
"It's tough, I'd like to be a part of the group but even so I'll be there to cheer on my team-mates," he said.
Although he is known as an errant talent and not reknown for his self-sacrifice for the team, coach Massimiliano Allegri was pleased with Cassano's effort against Parma.
"Antonio played well, he also sacrificed himself when we didn't have the ball," said Allegri.
"Until we reached 2-0 we played well but then the team eased off.
"The second half followed the same pattern as the first but the players' attitude was that of great players who knew how to close out the game.
"You always need to look to put the game to bed."