MADRID, May 10, 2010 (AFP) - Real Madrid coach Manuel Pellegrini insists he is still confident he will be in charge of the club next season despite the possibility that Madrid could end the season empty-handed.
Real beat Athletic Bilbao 5-1 on Saturday to stop Barcelona from winning the title but Madrid trail Barca by one point going into the final day of the season and must win at Malaga and hope the champions slip up at home to Valladolid.
It makes Barcelona, who beat Sevilla 3-2, strong favourites to retain the trophy and casts a dark cloud over Pellegrini's future.
"You will have to ask the board. I have one more year left on my contract and no one has told me that I am not going to continue next season," said Pellegrini.
"I am happy to have got the highest points tally in Real Madrid's history and I don't see any reason not to continue."
Real have netted a club record 95 points this season scoring over a century of goals in the process but Barcelona have 96 and are poised to land the title.
"Barcelona can celebrate whatever they like as there is still one game left to go," said Chilean Pellegrini.
"It is difficult for us to win the league as we realise Barcelona's most complicated match was in Sevilla but they face a Valladolid that are fighting to stay up and anything is possible in football."
After spending over 250 million euros in the summer on a new collection of 'Galacticos' Real were expected to bring home some silverware whether it be the league, Champions League or both.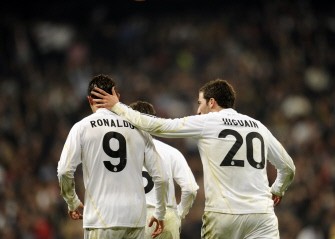 AFP photo
Real failed in Europe with a last 16 Champions League exit to Lyon all the more painful as the final will be at their Santiago Bernabeu stadium.
A Kings Cup humiliation to third division Alcorcon and two defeats to Barcelona in 'El Clasico' all piled more pressure on Pellegrini and failure to win the league could be the final straw despite his impressive statistics.
"We have all said over the course of the season that we are happy with Pellegrini. We hope he stays on," said defender Alvaro Arbeloa.
Real have shown in the past that they are not afraid to chop and change coaches and there has been increased speculation that Inter Milan coach Jose Mourinho could take over in the summer.
Former Chelsea coach Mourinho, 47, saw his popularity in Madrid rocket after masterminding Barcelona's downfall in the Champions League semi-finals and has been coy over his future.
Real Madrid superstar Cristiano Ronaldo has already come out and praised his compatriot Mourinho who used to work as a translator for Bobby Robson at arch rivals Barcelona.