RIO DE JANEIRO, July 31, 2011 (AFP) - Pele enjoyed the World Cup draw with a box seat in Rio's Marina -- but only after President Dilma Rousseff issued an official invitation after the organising committee failed to do so.
Pele has long had less than cordial relations with the head of the Brazilian Football Confederation -- and 2014 organising committee -- president Ricardo Teixeira.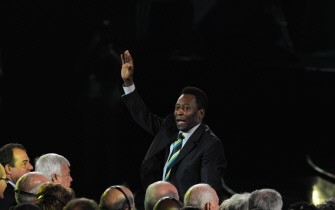 AFP- Pele waves during the Preliminary Draw for the 2014 FIFA World Cup Brazil, on July 30, 2011
But in the event the two were sat next to each other after Rousseff decided the star of three of Brazil's five successful World Cup campaigns had to be included.
Pele had said Friday that "I don't go where I'm not invited," despite having a backseat role as an honorary ambassador for the tournament.
"Teixeira decided who was going and who wasn't," said the 70-year-old who starred as a teenager when Brazil won their first World Cup in 1958.
He then featured briefly before injury cut short his 1962 campaign in Chile before he played in the magnificent side which thrashed Italy in 1970.
Pele had been set to take a back seat at Saturday's ceremony despite a veritable who's who of former stars being involved in drawing the balls for the various continental groups.
Zico, Bebeto, Cafu, Ronaldo and former coach Mario Zagallo were all there as past famous faces along with current stars Neymar, Ganso and Lucas.
But Pele took a front row seat - and a bow to cheers from the watching crowd - after Rousseff paid him a warm tribute in her address after FIFA president Sepp Blatter had opened the proceedings.
"For me he will always be our greatest ace," said Rousseff.
Speaking Friday, Pele had said he was happy to have a role even in the background as the World Cup prepares to return to Brazil for the first time in 64 years.
"It is a great honour to be given this responsibility. I accepted this post because since 1958 I have been promoting Brazil. When I was 17 and I arrived in Sweden people didn't know where Brazil was."
They did days later after his goalscoring display in the final saw off the Swedes.
Meanwhile, Teixeira faced calls for his head as several dozen protesters gathered near the draw venue and held up banners asking what benefits the World Cup would bring normal Brazilian people.
The protesters believe the billions of dollars being spent on the event will not benefit most Brazilians and they lined part of the route to the draw venue waving banners which variously read "Teixeira out" and "we want Wikileaks for the CBF."