TOKYO, July 14, 2011 (AFP) - Olympic Council of Asia president Sheikh Ahmad Al-Fahad Al-Sabah was elected Thursday for a sixth four-year term at the organisation's general assembly in Tokyo.
Sheikh Ahmad, a 49-year-old Kuwaiti who assumed the post in 1991, has also been a member of the International Olympic Committee since 1992.
The OCA's 30th annual general assembly approved the 2014 Incheon Asian Games programme of 36 sports which included softball, a women's event, under the category of baseball.
Softball had been originally dropped from the programme in an effort to prevent the Games from bloating further. Soft tennis was incorporated into tennis as the number of sports declined from 42 contested at the 2010 Guangzhou Games.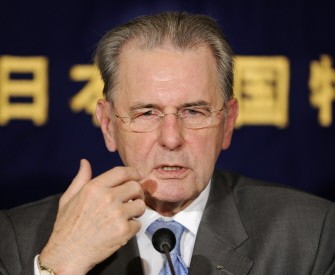 AFP - International Olympic Committee president Jacques Rogge gestures as he answers questions during a press conference at the Foreign Correspondents' Club in Tokyo on July 14, 2011. Rogge is here to celebrate the 100th anniversary of the Japanese Olympic Committee.
The general assembly started with a moment of silence for the victims of the March 11 earthquake and tsunami disaster which sparked a nuclear emergency on Japan's northeastern coast.
Sheikh Ahmad called for the tribute during his opening address, and delegates from all 45 national Olympic committees in Asia stood to observe the silence. IOC president Jacques Rogge also attended the meeting.
The meeting preceded events marking the 100th anniversary of the Japanese Olympic Committee on Friday and Saturday.
The OCA chief told the assembly Asia had been very active and held a series of multi-sports Games in the last four-year cycle, during which Beijing hosted the 2008 Summer Olympics.
The South Korean resort of Pyeongchang was awarded the 2018 Winter Olympics last week by the IOC. It will be the third Asian city to host the Winter Games after Japan staged the 1972 and 1998 editions in Sapporo and Nagano.
"This is Asia, and always Asia is ready to host sports events," Sheikh Ahmad said.
"I would like to congratulate our friends from Korea, from Pyeongchang, for winning the bid to host the Olympic Winter Games in 2018. This is another success for our family and will give added value to the Olympic movement."