MOSCOW, March 3, 2010 (AFP) - The head of Russia's Olympic Committee, Leonid Tyagachev, has resigned following the poor showing of the Russian team at the Vancouver Winter Games, news agencies reported on Wednesday.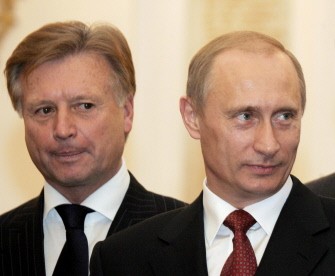 (FILES) A picture taken on November 4, 2004 shows then Russian President Vladimir Putin and Leonid Tyagachev (L), Head of the Russian Olympic committee during their meeting with Russian Olympic athletes in Moscow's Kremlin. AFP files
Tyagachev has "signed his resignation declaration," the spokesman for the Russian Olympic Committee Gennady Shvets was quoted as saying by the Interfax news agency.
"I do not know the precise motivation but in any case it is likely that this is linked to the performance of the Russian team in Vancouver," he added.
Attempts to reach Olympic Committee officials for confirmation were unsuccessful. A spokeswoman said that the information could not be confirmed because she did not have the official letter of resignation.
President Dmitry Medvedev had Monday called for officials in charge of preparing Russian athletes for the Winter Olympics to resign after the country suffered its worst-ever performance in Vancouver.
The Russian squad finished 11th in the Games' medal table, clinching only three gold medals and 15 overall, raising worries about its performance when Russia hosts the Winter Olympics in Sochi in 2014.
Russia suffered embarrassing losses in sports that are a matter of national pride. Its ice hockey team was beaten in the quarter finals by Canada and its figure skaters failed to win any gold medals for the first time in 50 years.
The poor showing was a bitter blow to a country used to dominating the Winter Olympics since Soviet times.
"Those in charge of preparation for the Olympics must take responsibility right now. The responsible persons should take the courageous decision and submit their resignation," Medvedev had said in televised remarks.
"If they cannot do it we will help them," he added.
Tyagachev's resignation was a "direct reaction to the president's words, Shvets told Gazeta.ru news web site.
The team's performance earlier drew criticism from Prime Minister Vladimir Putin, who on Friday called for "serious critical analysis and conclusions, perhaps including organisational conclusions."
Tyagachev began his career as an Alpine skiier and trainer of the Soviet Union's team.
He served as sport and tourism minister in the 1990s before joining the Olympic Committee. He was elected president of the committee in 2001 and has long been seen as an ally of Putin.
He is also reportedly a former personal alpine ski instructor of Putin. The prime minister has long been fond of showing off his prowess on the slopes in front of the cameras.
Russia's Sports Minister Vitaly Mutko has so far brushed off calls to resign, despite the popular Tvoi Den tabloid running a frontpage headline calling him to "Mutkoff."
Returning him with the Olympic team at a Moscow airport Tuesday, Mutko said that "I will leave absolutely calmly if it concretely concerns me. But I don't know whether sport will gain from that."
Mutko, who has served as sports, tourism and youth minister since 2008, described the Olympic team's results as "not a failure, but an objective reality."
Several Russian sports greats have argued after the Olympics that the country needs to create a whole new system for nurturing talent after failing in the last years to replace the all conquering Soviet machine.