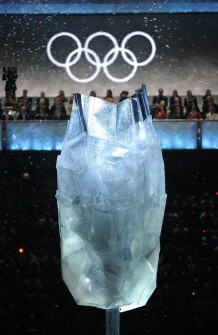 The extinguished Olympic cauldron is pictured with olympic rings during the closing ceremony at the BC Place in Vancouver on February 28, 2010. AFP PHOTO
VANCOUVER, Feb 28, 2010 (AFP) - Australian Olympic chiefs hope their best ever Winter Games medal haul will prove a powerful weapon in their ongoing battle to improve funding and to prevent athletes quitting in frustration.
Lydia Lassila's freestyle aerials title and Torah Bright's halfpipe triumph allowed Australia to better the gold count of traditional European power Italy and was just one behind mighty Russia.
But the success has been overshadowed by rumours that bobsleigh pilot Christopher Spring is set to switch allegiance to Canada where he already lives as the Australian Institute of Sport does not fund a bobsleigh programme.
"Every athlete has the right to decide what he wants to do," said Australian chef-de-mission Ian Chesterman. "Unfortunately there's not a bottomless pit of money."
Pushing for more money will be high on Chesterman's list of priorities when he gets home.
"This is a great opportunity to go forward, we will push on funding and facilities when we get home," he said.
"We need to strive to get better. The Chinese are strong (in freestyle) and getting stronger so we need to invest to stay on top."
Chesterman is convinced that the success of the media-friendly and photogenic Lassila and Bright will help bring more youngsters into winter sport.
"We now have a culture of success which is very important when it comes to dragging our athletes forward," he said.
"I think the future looks good. The response I've seen from home has been amazing.
"I think there's a lot of mattress sellers and lounge sellers jumping with joy at the moment because all the kids practising Aerials has meant all the inner springs in mattresses have gone."
As well as two golds, Australia clinched a silver courtesy of Dale Begg-Smith in freestyle.
Nine athletes finished in the top ten.
It is also the fifth consecutive Winter Games where Australia has won a medal, following the bronze medal won in the short track skating relay in Lillehammer in 1994.
"Yet again, we have punched above our weight and finished higher on the medal table then some of the nations who expected to dominate at these Games," added Chesterman.