Greek defending champions Olympiakos arrived in Hanoi May 12, Tuesday, for Thursday's friendly with the national squad of Vietnam, who are preparing for upcoming qualifiers for the 2011 Asian Cup.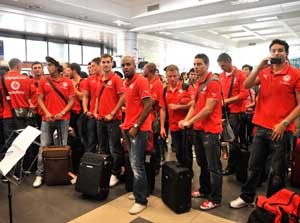 Olympiakos players after landing at Hanoi's Noi Bai Airport on May 12
Right at the Noi Bai International Airport, reporters focused on coach Ernesto Valverde and goalkeeper Antonios Nikopolidis, who made many splendid saves for Greek during the EURO 2004 where they triumphed for the European Champions title for the first time in their history.
Coach Valverde told the reporters that a few key players of Olympiakos did not join the trip to Vietnam "due to personal reasons." But, he said, his side would play a good game to please Vietnamese fans.
Only 18 Olympiakos players came to Hanoi this time.
At the airport, goalkeeper Nikopolidis said, "We come from a European country and don't have much information about football here. However, I learned that Vietnam is a strong team and they have just won the Southeast Asian title."
As for the Vietnam side, Portuguese coach Henrique Calisto on Monday decided to let captain Nguyen Minh Phuong return home because of his current injury. No.1 striker Le Cong Vinh was elected captain.
The two teams will play the friendly at My Dinh National Stadium at 7:30 pm. Vietnam Television will broadcast the match live on the VTV2 channel.
The Portuguese coach called two naturalized Vietnamese, goalkeeper Dinh Hoang La and midfielder Dinh Hoang Max, who are playing for first-division club Ninh Binh. Goalie La, or Lytovka Mykola from Ukraine, and Max, who is Nigerian footballer Maxwell Eyerakpo, received Vietnamese citizenship earlier this year.
After the friendly with the Greek champions, Calisto and his players will start another training camp to prepare for a 2011 Asian Cup qualifier against Kuwait. During the training session, they are scheduled to play a friendly on May 29 with Iran, who are preparing for their next World Cup qualifier against North Korea on June 6.