NEW YORK, Sept 13, 2010 (AFP) - A grueling two-week US Open struggle that ended with a runner-up finish for the second time in four years is only the beginning for Novak Djokovic in more ways than one.
The 23-year-old Serbian speedster lost to world number one Rafael Nadal 6-4, 5-7, 6-4, 6-2 in Monday's US Open final, but rose to world number two and earned the praise of the latest of seven men to complete career Grand Slams.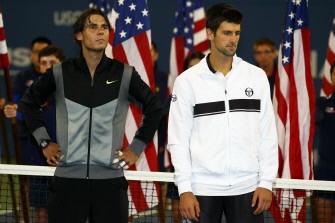 Nadal and runner up Djokovic (R) look on during the US Open trophy ceremony after their men's singles final on Sep. 13 (AFP)
"You are a great player and you are going to win this trophy very soon. I am sure of that," Nadal told Djokovic at the post-match award ceremony.
Djokovic was coming off an emotional five-set semi-final victory over Roger Federer, who had ousted him in the past two years in the semi-finals and beaten him in the 2007 final, and a rest day thanks to rain that helped him recover.
"I cannot hide the disappointment. I'm not going to cry or complain about that. It's just the way it is," Djokovic said. "Of course I'm feeling bad about my loss. I wanted that trophy and I know I gave my maximum to get it.
"But tomorrow I will wake up as a new man. I will continue on working hard and waiting for the next chance to come."
Djokovic has little time to absorb the loss because he must return to Serbia for a Davis Cup semi-final showdown against the Czech Republic that starts Friday.
"Davis Cup is very important," Djokovic said. "It's one of the crucial matches, semi-finals for the first time and there is a lot of interest for the match in our country.
"I don't think it's going to affect me too much. I'm physically fit."
Djokovic, whose only Grand Slam title came at the 2008 Australian Open, took some solace in reaching another Grand Slam final and playing his best on the biggest stage.
"I've played the best tennis certainly last seven, eight months, maybe the whole year," he said.
"From Wimbledon up to this point, I feel much more comfortable on the court, more confident and getting this aggressive game back and the game that I need to have in order to stay at the top, a game that has been part of me always.
"It's a good sign. I will continue on working, as I said, and hope that I can keep that performance."
But in the end, he said Nadal showed why he is the best player in the world and even his top level was not enough.
"I don't think I played a bad match overall. It was very good performance from my side," Djokovic said. "But whenever it was important, he was the one who was playing just too good."