The distinguished guests attended in the gala including Head of the Department of Propaganda and Training of the Ho Chi Minh City Party Committee Than Thi Thu, Vice Chairwoman of the Ho Chi Minh City People's Committee Nguyen Thi Thu, Deputy Director of Vietnam General Department of Physical Training and Sports Le Thi Hoang Yen, Vietnam Football Federation (VFF) Vice President Tran Quoc Tuan and Chairman of the Vietnam Professional Football (VPF) Tran Anh Tu.
The organization board's representatives were Editor in chief of Sai Gon Giai Phong (SGGP) Newspaper Nguyen Tan Phong, Deputy editor in chief Nguyen Thanh Loi cum Head of organization board of the awards.
Representatives of sponsors, leaders of domestic teams, coaches, football players, former football players, football lovers especially reporters, sport journalists of news agencies nationwide.
The organization board respectively awarded the Men's Golden, Silver and Bronze Ball Awards to football players Nguyen Quang Hai (Hanoi Football Club), Nguyen Anh Duc (Becamex Binh Duong Football Club) and Phan Van Duc (Song Lam Nghe An Football Club) as expectation of football lovers.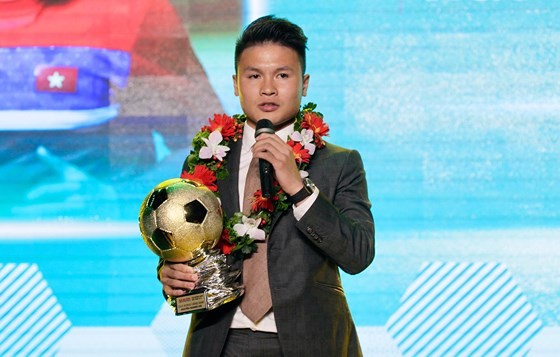 Nguyen Quang Hai wins 2018 Golden Ball Awards as expectation

"The best young male football player" awards went to Doan Van Hau from the Hanoi Football Club; and "the most favorite player" title belonged to Nguyen Cong Phuong from Hoang Anh Gia Lai Club.
The winner of 'the best foreign football player' awards was Hanoi club's striker Oseni Ganiyu Bolaji.
In women's category, Nguyen Thi Tuyet Dung (PP. Ha Nam Football Club), Huynh Nhu (Football Club of Ho Chi Minh City) and Chuong Thi Kieu (Football Club of Ho Chi Minh City) won the Women's Golden, Silver and Bronze Ball Awards respectively.
"The best young female football player" awards went to Nguyen Thi Tuyet Ngan (HCMC Club).
In the futsal category, Vu Quoc Hung from Hai Phuong Nam Club won the Golden Ball Awards; and Ho Van Y (Thai Son Nam Club) and Pham Duc Hoa (Thai Son Nam Club) received the Silver and Bronze Ball Awards.
Vietnamese Golden Ball Awards is organized annually by Sai Gon Giai Phong Newspaper since 1995, and is considered as an important awards voted by fans, sport journalists as well as experts aiming to honor and recognize contributions and achievements of football players during a year.
This year is considered as a successful competitive year of the Vietnamese football players in the regional and continental tournaments with impressive achievements of the 2018 ASEAN Football Federation (AFF) Suzuki Cup Trophy winner, the runner- up of the AFC U23 Championship 2018, top four teams at the 2018 Asian Games (ASIAD).
Earlier, Vietnamese Prime Minister Nguyen Xuan Phuc had a friendly meeting with South Korean head coach Park Hang- seo and all members of Vietnam men's national football team at Government Office on December 21 to honor their achievement at the ASEAN Football Suzuki Cup trophy.
Series photos were posed at the night gala of the 2018 Vietnamese Golden Ball Awards: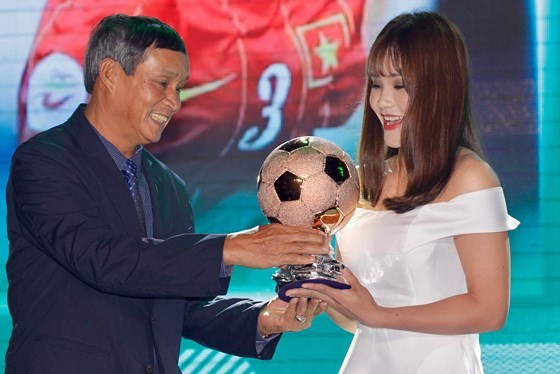 Chuong Thi Kieu wins bronze ball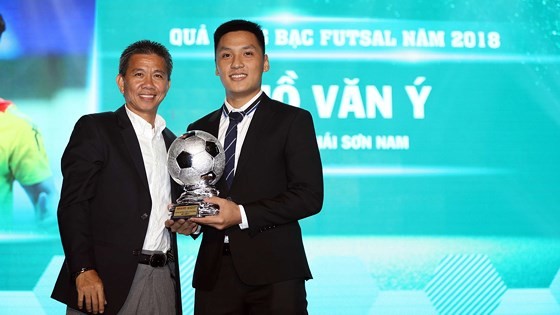 Ho Van Y with title of the siver ball in futsall category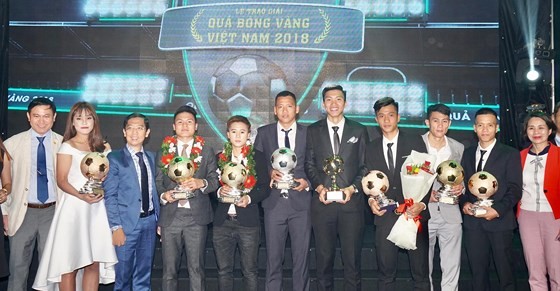 The players at the night gala of the 2018 Goldern Ball Awards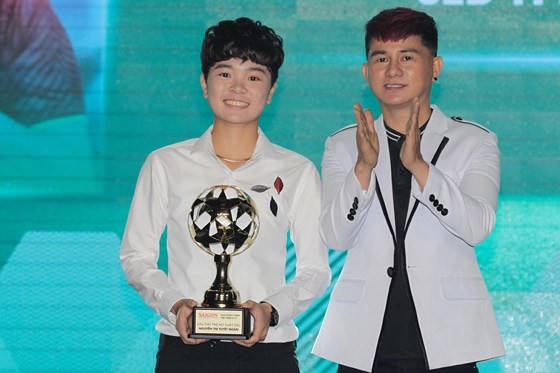 "The best young female football player" awards belongs to Nguyen Thi Tuyet Ngan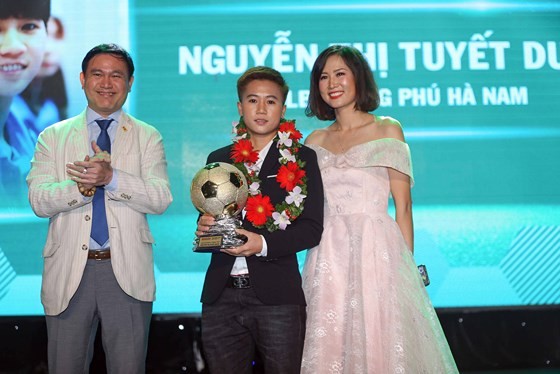 Nguyen Thi Tuyet Dung with golden ball in hand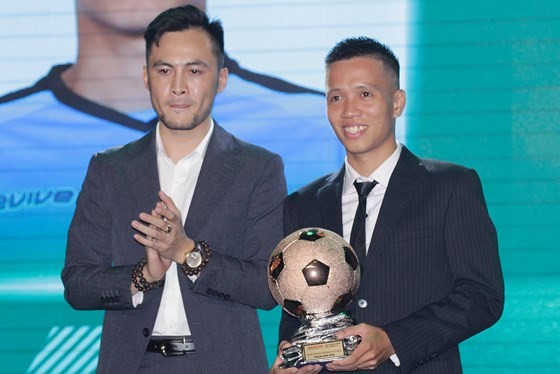 Pham Duc Hoa wins the futsal bronze ball awards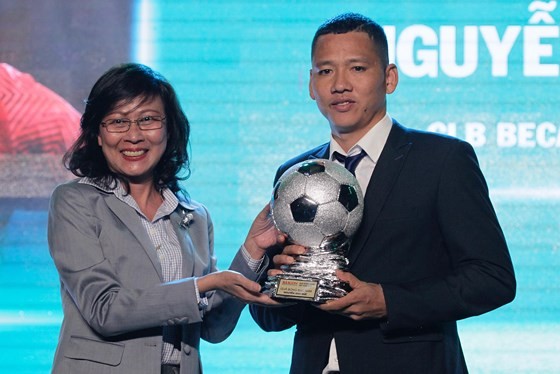 Striker Nguyen Anh Duc receives the silver ball awards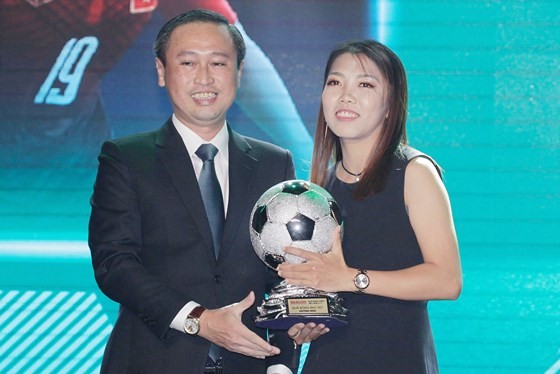 The women's silver ball title belongs to Huynh Nhu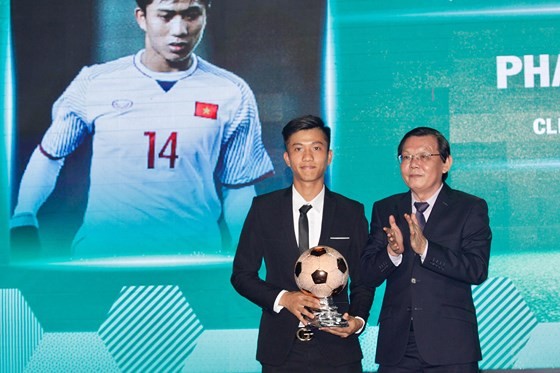 Editor in chief of Sai Gon Giai Phong (SGGP) Newspaper Nguyen Tan Phong awards bronze ball to Phan Van Duc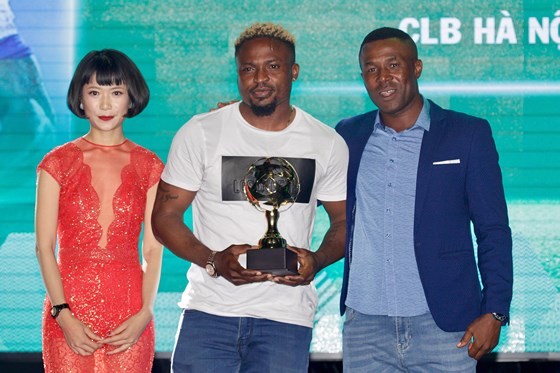 Hanoi club's striker Oseni Ganiyu Bolaji wins 'the best foreign football player' awards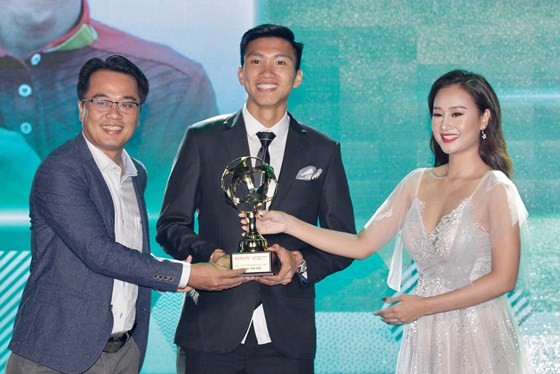 Doan Van Hau receives "The best young male football player" awards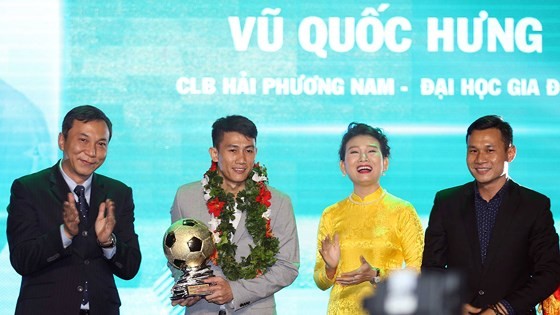 Vu Quoc Hung receives the gold futsal ball