PARIS, July 31, 2011 (AFP) - Newly-elected French football chief Noel Le Graet expressed his optimism Sunday despite France being drawn in the same group as defending champions Spain in qualifiers for the 2014 World Cup.
France, the 1998 world champions, were drawn in the five-team Group I along with Spain, Belarus, Georgia and Finland, in Rio de Janeiro on Saturday.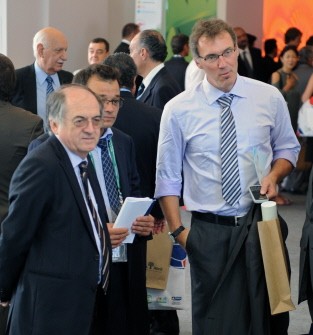 AFP - France's national team coach Laurent Blanc (R) stands next to French Football Federation president Noel Le Graet (L) on July 30, 2011, at Marina da Gloria, Rio de Janeiro, Brazil, before attending the Preliminary Draw for the 2014 FIFA World Cup Brazil.
But Le Graet, who was elected president last month in place of former FFF supremo Jean-Pierre Escalettes, who resigned after the 2010 World Cup fiasco in South Africa, believes that a new era is about to dawn for French football.
"I'm optimistic. It's a beautiful line-up with Spain in our group," said Le Graet. "France are progressing and will have to demonstrate this against a team of such a calibre.
"Do we have less chance of qualifying? Not at all. There are cycles, Spain are currently untouchable in their game.
"But France are progressing a lot. Laurent (Blanc) has managed to find eleven (players) and I hope that he's going to help the team progress even further."
Les Bleus, having slid beneath Norway and Greece in the FIFA rankings to miss out on a seeded spot, will have to battle furiously for top spot with only the group winners assured of a place in the finals, with second-placed finishers going into a play-off.
Coach Laurent Blanc said the next three years could see a decline in the powers of Spain, as he looks to rebuild a champion-winning side.
"It stimulates me to play Spain! It's good to match yourself against the best and Spain are the best on planet football.
"Spain can also evolve. They dominate the world in 2010 and 2011 but tomorrow who knows? I think they will still be among the best nations but these games aren't happening straight away."
But Blanc, who had a spell as a player with Barcelona and was in the French squad which won the 1998 World Cup, said anything can happen.
"Three years is a long time and 2014 isn't now. Spain are currently the best team there is. But we don't know if that will be the case in two or three years time.
"It's to be expected that we drew a big fish as we were not seeded."
Arsenal's Abou Diaby said he was relishing the challenge.
"Ah yes Spain? That suits me," the 15-times capped midfielder told the sports daily L'Equipe. "I'm happy, it's a good thing. At least we'll be at the heart of things and that will allow us to gauge where we are."
Aston Villa midfielder Charles Nzogbia said: "We mustn't dramatise things. In football everything moves very quickly.
"A hierarchy can quickly be toppled. We'll see their strengths when the time comes. Imagine if Xavi (Hernandez) or (Andres) Iniesta were injured.
"And between now and then there will be the Europeans. We still have the time to bring together a team capable of rivaling Spain."
Paris Saint Germain midfielder Jeremy Menez warned against underestimating other group rivals such as Belarus who took four points off the French in Euro qualifiers.
"We mustn't underestimate any rival. We're up again against Belarus who have given us a lot of problems recently. In qualifiers all matches are difficult," said Menez.