The Vietnamese futsal (indoor football) team's new coach, Bruno Formoso, said he was optimistic about the future and that Viet Nam could enter the top four in Asia in the next three years.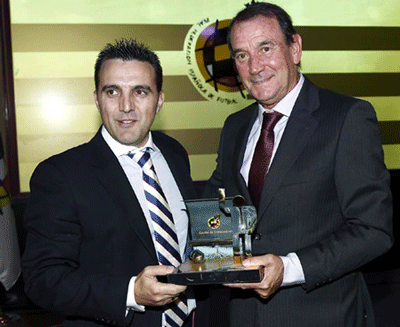 Ambitious: Bruno Formoso (left) receives the Ramon Cobo, an honour awarded to the best coach by the Royal Spanish Football Federation's Coaches Committee in the 2011-12 season. The Spanish coach hopes to push Viet Nam into Asia's top four in the next three years. (Photo VNA)
"At the moment, Viet Nam rank 14th in Asia, but I hope in one or two years the country will be in the top eight, and then the top four is the next target," he said after a training session at the Thai Son Nam Indoor Stadium in HCM City.
The Spaniard arrived in HCM City on Monday to begin his three-year stint as head coach of the national team.
Viet Nam have done pretty well in recent years, especially in Southeast Asia where they are only behind Thailand. The country also beat world champions Brazil in an international competition in HCM City last November.
But at the continental level they have never progressed beyond the first round. And Formoso is here to hopefully improve that record.
"But the task is very hard. We must work on young players at different levels, from U15s to U21s," the 40-year-old said.
But he played down expectations for the upcoming AFC Futsal Championships to be in HCM City from April 30 to May 10.
"The team is experiencing a lot of changes. A new coach with a new method and new blood in the team will need time to improve," he said.
Formoso, who coached for 15 years in the Spanish futsal league, also has considerable experience of futsal beyond Europe, having worked in China and Peru as well as coaching players from Japan.
"I coached a team in China two years ago and then I managed the Peru national team. I also trained two Japanese players at a futsal camp in Grenada."
The AFC Futsal Championship will feature the 15 best teams in Asia and Viet Nam.